Our Stock of the Week is Tronox (TROX). TROX is a leading producer of titanium dioxide, zircon, and other products that are used in paint, coatings, plastics, and paper. 
In the third quarter of 2021, the company has a blow-out earnings report, with revenues up 30% and EPS of $0.72, versus $0.05 in the prior year. The company is expected to grow eps 23% in 2022 but trades with a trailing PE of just 13x.
Back in September 2021, it was reported by Reuters that Apollo Global Management had offered $27 in cash for the company. TROX management has declined to comment on the story, and the rumor has never been confirmed or denied. In October, Morgan Stanley stated that this would keep a floor under TROX shares. It also raised its target to $30. Two weeks ago, UBS reiterated its 'buy' rating on the stock and a $31 target
In November 2021, TROX surprised the market by announcing a $300 million buyback as it was two years ahead of schedule in reducing its debt target to $2.5 billion. It also is paying a $0.50 per share dividend.
TROX is expected to report earnings of $0.57 on February 16.
Technically, the stock is forming a cup-with-handle pattern. We are looking for a move through the pivot point around $26. As always, we would not chase strength to start the week but will be aggressively trading into volatility.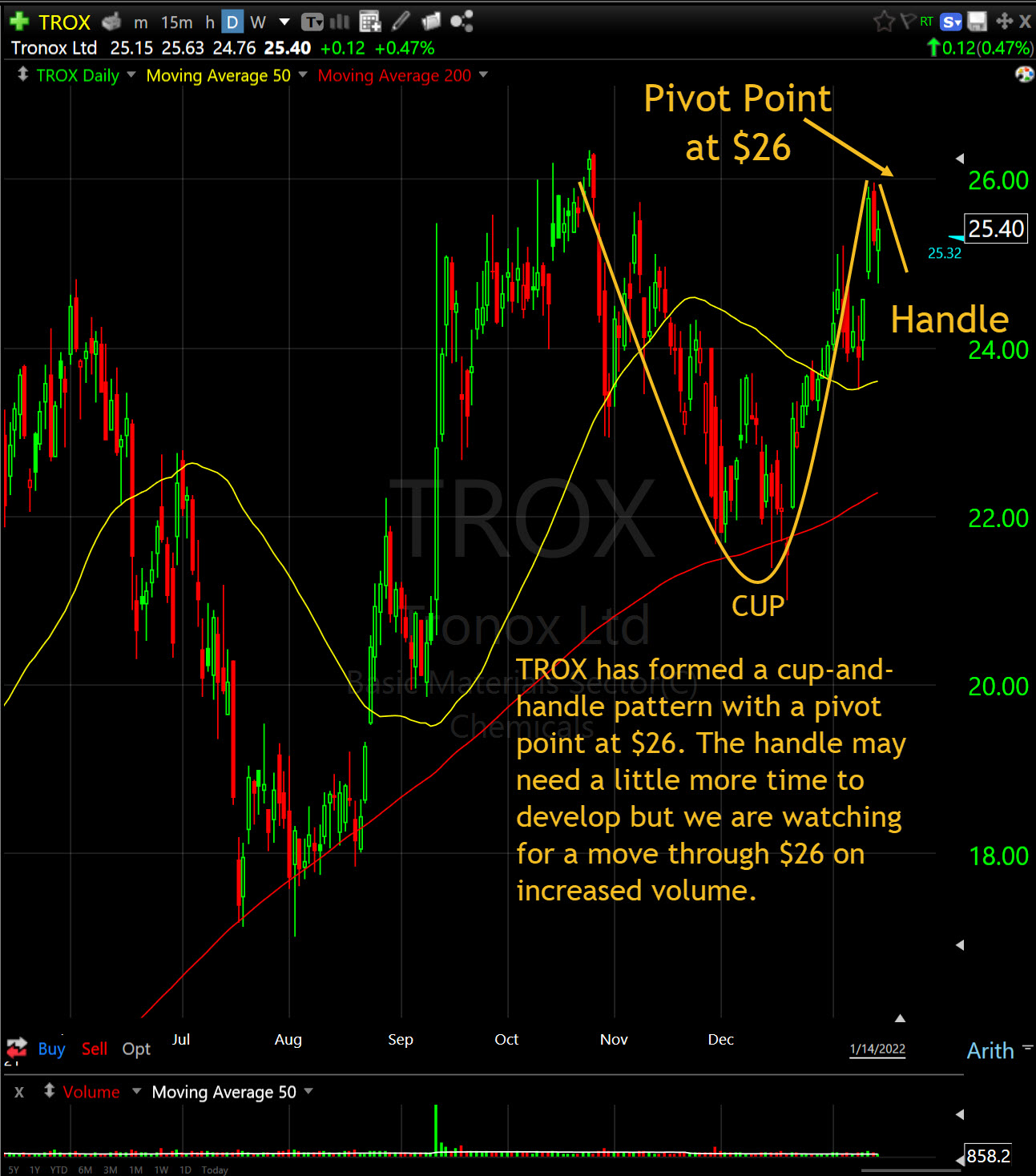 This post is for educational purposes only! This is not advice or a recommendation. We do not give investment advice. Do not act on this post. Do not buy, sell, or trade the stocks mentioned herein. We WILL actively trade this stock differently than discussed herein. We will sell into strength and will buy or sell at any time for any reason. We will actively trade into any unusual activity. At the time of this post, principals, employees, and affiliates of Shark Investing, Inc. and/or principals, clients, employees, and affiliates of Hammerhead Financial Strategies, LLC, directly or indirectly, controlled investment and/or trading accounts containing positions in TROX. To accommodate the objectives of these investing and/or trading accounts, the trading in these shares will be contrary to and/or inconsistent with the information contained in this posting.