Our Stock of the Week is Rain Oncology, Inc (RAIN). Rain is a late-stage oncology company developing precision therapies targeting cancer. It uses an approach based on genetics. Rain's lead product candidate, milademetan, is a small-molecule oral inhibitor. In addition to milademetan, Rain is also developing a preclinical program focused on inducing synthetic lethality in cancer cells.
Rain's lead product milademetan is in a Phase 3 trial for liposarcoma, a type of cancer that occurs in fat cells in the body. Analysts are optimistic about the results and believe that the outcome has been 'meaningfully de-risked' according to Roth, given the strong Phase 1/2 data that were strongly positive.
Initially, the results were expected in the first quarter but were pushed back to the second quarter. At least one analyst from Jones believes this could be a positive sign.
There are seven analysts with 12-month price targets in the last three months. The average price target is $19.43, with a high of $29 and a low of $15.
This stock is a bet on the Phase 3 news and therefore is high risk. We are looking for positive anticipation to build into the news, but we do not know when it might hit.
Technically the stock had a significant volume surge on Friday, which took it up to the overhead resistance line. That volume may indicate that optimism is building and leading to more upside in front of the news.
As always, we would not chase the stock on Monday morning but will be looking to aggressively trade our position into the volatility.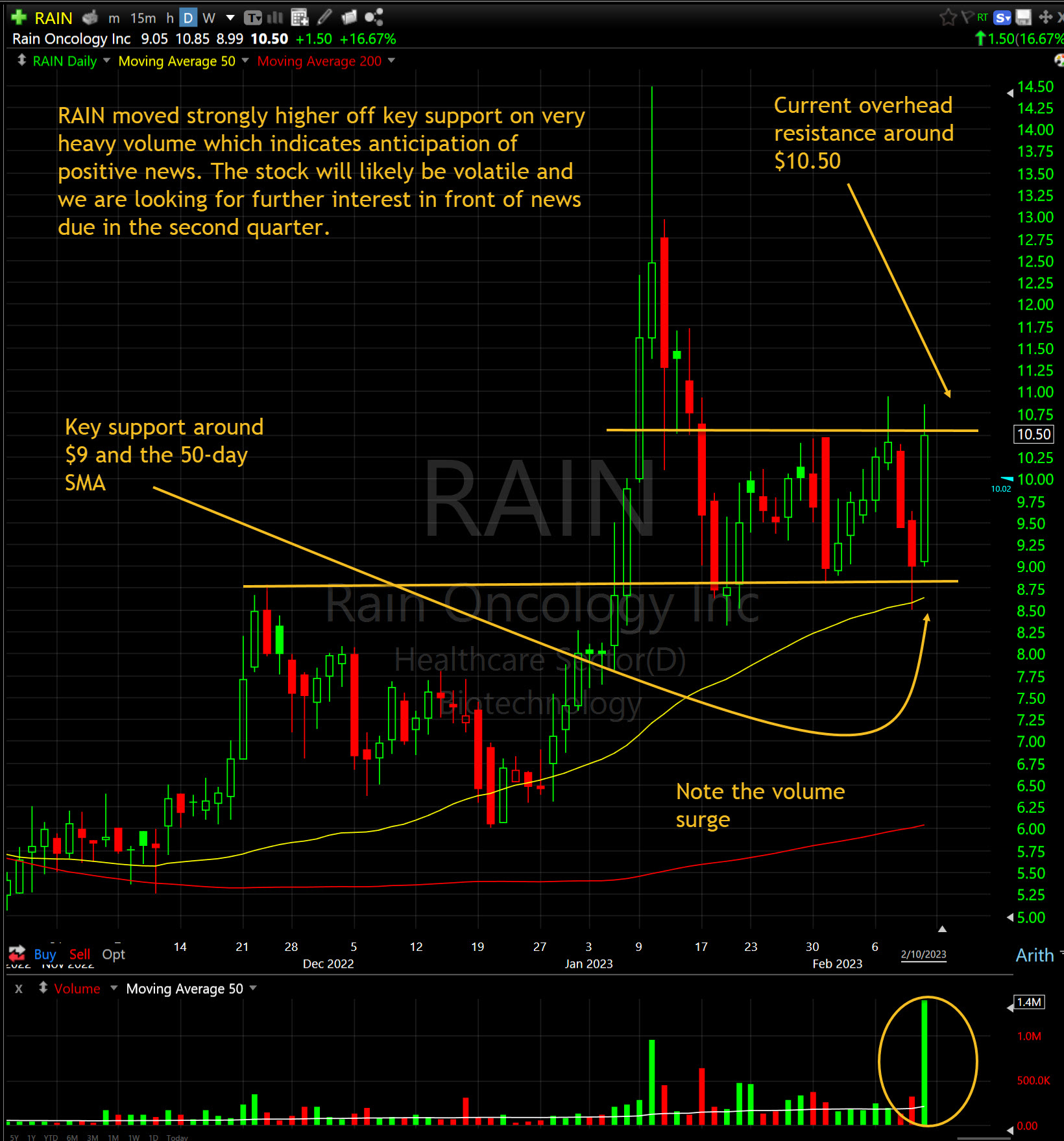 This post is for educational purposes only! This is not advice or a recommendation. We do not give investment advice. Do not act on this post. Do not buy, sell, or trade the stocks mentioned herein. We WILL actively trade this stock differently than discussed herein. We will sell into strength and buy or sell anytime for any reason. We will actively trade into any unusual activity. At the time of this post, principals, employees, and affiliates of Shark Investing, Inc. and/or principals, clients, employees, and affiliates of Hammerhead Financial Strategies, LLC, directly or indirectly, controlled investment and/or trading accounts containing positions in RAIN. To accommodate the objectives of these investing and/or trading accounts, the trading in these shares will be contrary to and/or inconsistent with the information contained in this posting.