Our Stock of the Week is Quest Resource Holding, Corp (QRHC). QRHC is a waste and recycling company that helps customers meet business efficiency, sustainability, and ESG goals. It serves large national customers like John Deer, Kroger, Buffalo Wild Wings, etc. The company helps to divert waste from landfills. Hendrick Automotive recycled over 27 million pounds of waste and hit its ESG goals.
The most recent investor presentation can be found here.
QRHC has been moving into higher margin business in recent years, and it proved it was on the right track in August when it reported eps of $0.19 versus $0.05 in the prior year. The company is expected to earn $0.45 this year and $0.51 next year. The next earnings report is due on November 14.
The company is in a fast-growing niche as states like California are imposing ESG goals on companies. QRHC also has made several smaller acquisitions with the potential to be accretive to earnings.
Technically the stock has been forming a new high-level base in the $7 to $9 level since its last earnings report and is in a good position for a breakout move on the next report.
As always, we will not chase strength on Monday but will look to aggressively trade the stock into increased volatility.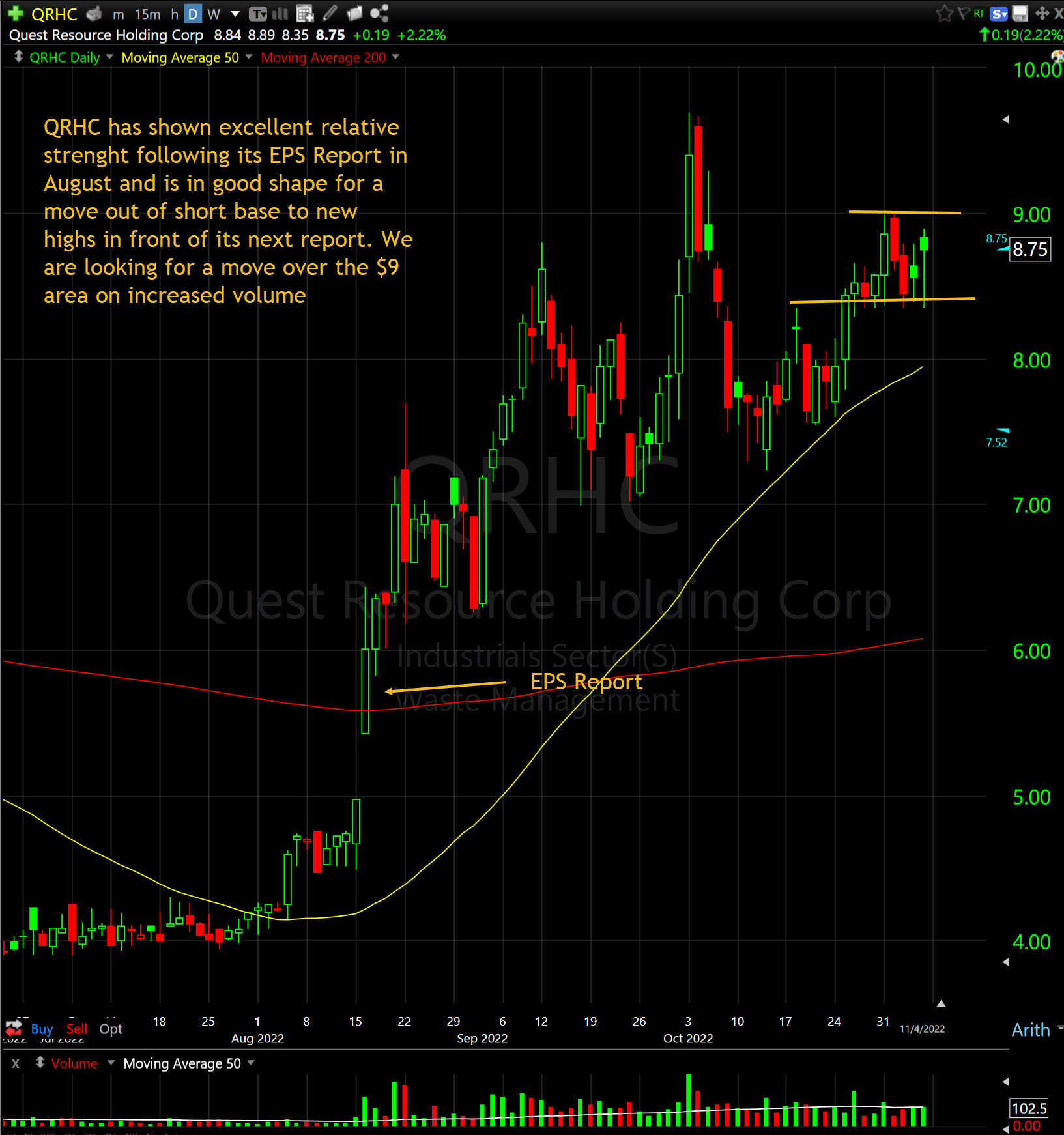 This post is for educational purposes only! This is not advice or a recommendation. We do not give investment advice. Do not act on this post. Do not buy, sell, or trade the stocks mentioned herein. We WILL actively trade this stock differently than discussed herein. We will sell into strength and will buy or sell at any time for any reason. We will actively trade into any unusual activity. At the time of this post, principals, employees, and affiliates of Shark Investing, Inc. and/or principals, clients, employees, and affiliates of Hammerhead Financial Strategies, LLC, directly or indirectly, controlled investment and/or trading accounts containing positions in QRHC To accommodate the objectives of these investing and/or trading accounts, the trading in these shares will be contrary to and/or inconsistent with the information contained in this posting.