Our Stock of the Week is Xeris Pharmaceuticals (XERS). XERS has been a very disappointing name as it has struggled with a poor biotechnology market, a lack of communication, and the challenges of COVID, but after the completion of its merger with StrongBridge Biotech and an FDA approval this past Friday of Recorlev, the company is in a good position to start performing as it now has three FDA approved products, a strong pipeline, and an active sales force.
On Monday morning, it announced a $30 million private placement priced at $2.93 plus warrants with an exercise price at $3.223. This removes the overhang of a secondary and gives the company a long cash runway.
Piper, Leerink, and Wainwright have reiterated their buy rating on the stock with targets of $6, $8, and $5.40, respectively.
Technically, the stock has formed a complex bottom and is now challenging the 200-day simple moving average. With tax selling over and the potential for better action in biotechnology, XERS is in a good position to develop an uptrend.
As always, we would not chase strength on Monday morning but will be looking to aggressively trade our position as the price action develops. Short-term support is around $2.70.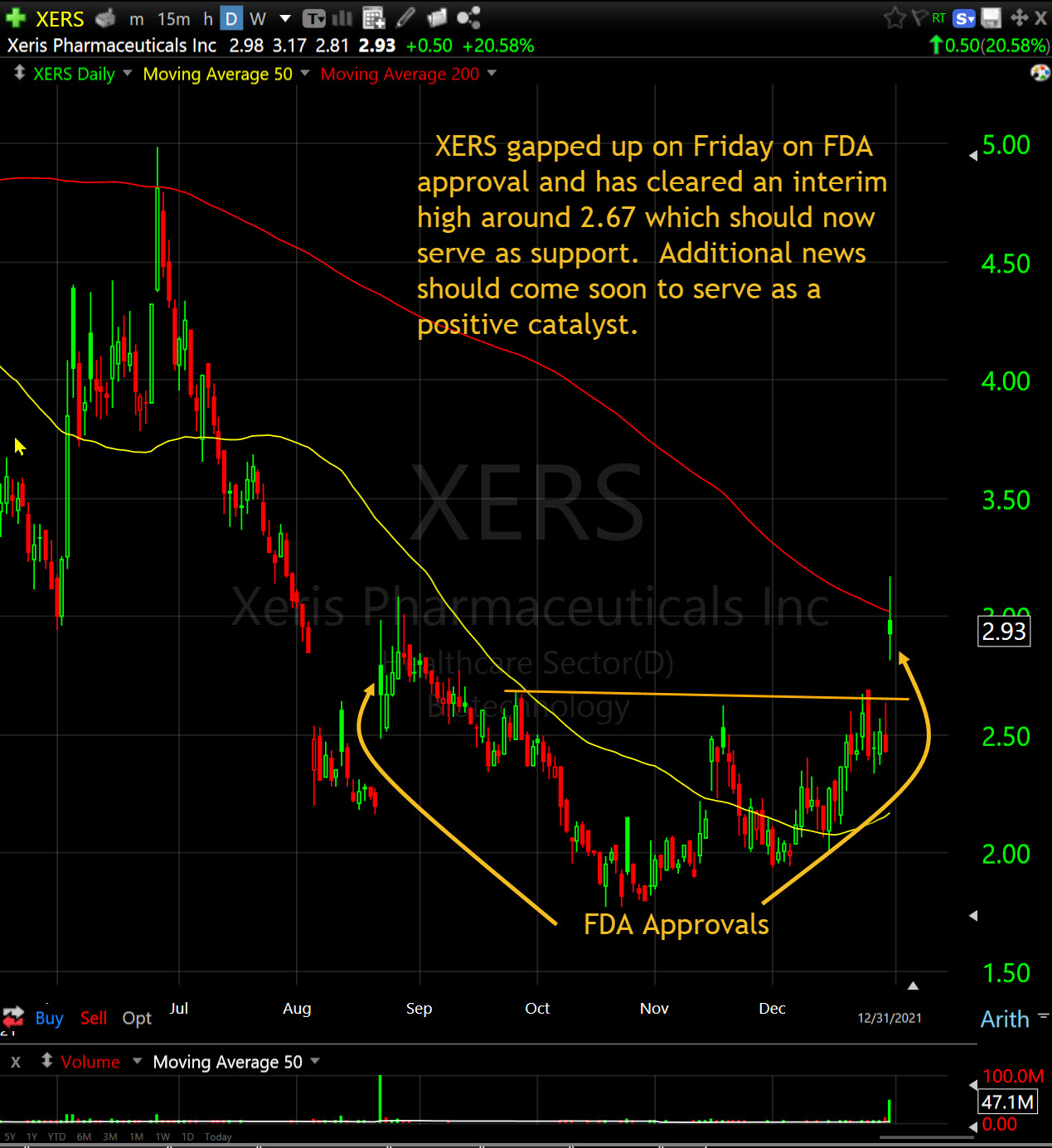 This post is for educational purposes only! This is not advice or a recommendation. We do not give investment advice. Do not act on this post. Do not buy, sell, or trade the stocks mentioned herein. We WILL actively trade this stock differently than discussed herein. We will sell into strength and will buy or sell at any time for any reason. We will actively trade into any unusual activity. At the time of this post, principals, employees, and affiliates of Shark Investing, Inc. and/or principals, clients, employees, and affiliates of Hammerhead Financial Strategies, LLC, directly or indirectly, controlled investment and/or trading accounts containing positions in XERS. To accommodate the objectives of these investing and/or trading accounts, the trading in these shares will be contrary to and/or inconsistent with the information contained in this posting.