Our Stock of the Week is Beyond Air, Inc. (XAIR). XAIR develops nitric oxide delivery systems to treat respiratory and other diseases. This delivery system is much easier and less costly than the traditional systems
On June 28, the FDA approved XAIR's  LungFit PH system for the treatment of hypoxic respiratory failure in term and near-term neonates. The device uses the company's Ionizer technology to generate unlimited, on-demand nitric oxide using ambient air.
XAIR's CEO Steve Lisi commented, "The approval of LungFit PH validates our patented Ionizer technology and lays out a premarket approval model for our other LungFit platform devices, including LungFit PRO and LungFit GO. We believe that LungFit PH is just the first in a series of our medical devices that, if approved, will become available for treating a wide variety of respiratory diseases as we remain dedicated to our mission of harnessing the power of nitric oxide for all who can benefit from this transformational therapy."
Subsequently, XAIR has presented favorable data for nitric oxide to be used for COVID and for at-home use.
The company is currently engaged in early launch activities and has indicated that it has received more requests for evaluation than it can handle. The company is presenting at Pipers Annual Healthcare Conference on November 30.
Four analysts have to buy ratings on the stock in the last month, with a high target of $23 from Ladenburg and a low target of $13 from Oppenheimer. The average target price is $17.75. Truist reiterated its buy on the stock and $20 target last week.
There also has been significant insider buying by management in recent years, with a buy of 175,000 shares by a director on July 5 at a price of around $6.45.
XAIR director Rob Carey added 50,000 shares last week with an average price slightly under $6. He now holds almost 800,000 shares.
We feel the insider buying is a vote of confidence that contract news should be coming soon.  
Technically the stock is sitting on some support around the $6 level. It has given back all the gains on FDA approval and other positive data due to poor market conditions. It has been 'derisked' to a great degree and is in a good position to take out the uptrend line.
As always, we will not chase strength on Monday morning but will look to aggressively trade the stock into volatility. The stock trades very thin and will be very volatile.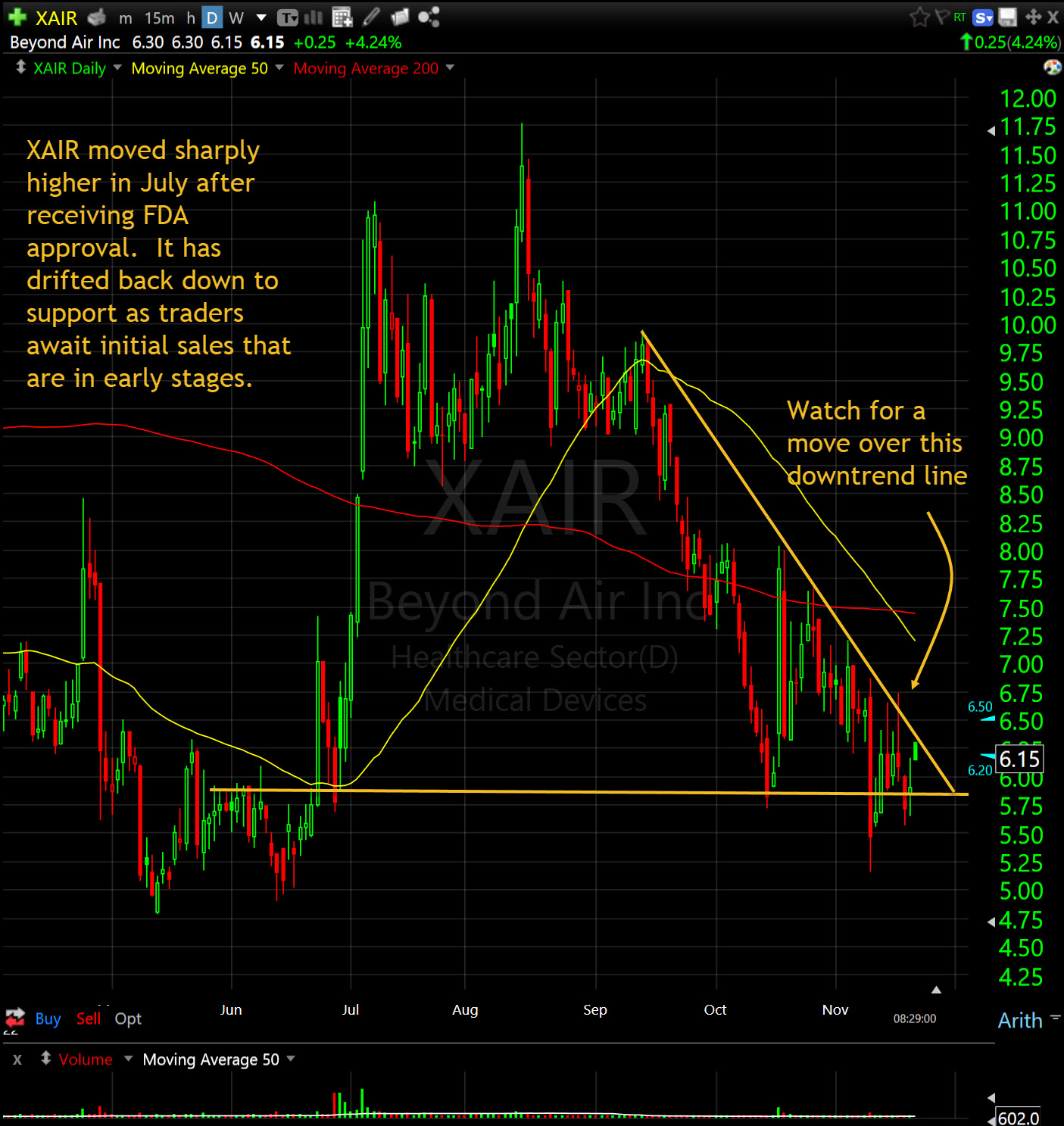 This post is for educational purposes only! This is not advice or a recommendation. We do not give investment advice. Do not act on this post. Do not buy, sell, or trade the stocks mentioned herein. We WILL actively trade this stock differently than discussed herein. We will sell into strength and will buy or sell at any time for any reason. We will actively trade into any unusual activity. At the time of this post, principals, employees, and affiliates of Shark Investing, Inc. and/or principals, clients, employees, and affiliates of Hammerhead Financial Strategies, LLC, directly or indirectly, controlled investment and/or trading accounts containing positions in XAIR.  To accommodate the objectives of these investing and/or trading accounts, the trading in these shares will be contrary to and/or inconsistent with the information contained in this posting.