Our Stock of the Week is Beyond Air, Inc (XAIR). XAIR is an old favorite that we have followed for quite a while. We have remained positive about the company due to a combination of innovative technology and very aggressive insider buying. Management is betting heavily on better stock prices, and this week will be a potential news catalyst to give the stock some momentum.
XAIR reports earnings on Thursday, June 22, after the market close, and then on Friday, it should be added to the Russell 2000 Index at the close.
Typically we avoid betting on earnings and news events as there is often a 'sell the news' outcome, but in XAIR's case, this report should contain its first hospital sales for its LungFit PH system. They have indicated that phase one of their marketing has been successful, and they are moving to phase 2. The start of revenues will be a major turning point for the company.
Analysts at BTIG initiated a 'buy' on the stock last week and put a $15 target in place. They note that XAIR is a respiratory technology company that is enabling improved access to nitric oxide therapy via its LungFit platform. "The firm says the LungFit PH system is an improvement on the existing standard of care because it eliminates the risks and hassle of gas cylinders by generating nitric oxide on demand, at the proper dosages. As the company achieves its upcoming catalysts – sales ramp, regulatory wins, clinical studies – the technology platform's value will gradually be recognized by investors, contends BTIG".
As always, we would not chase the stock but are looking for opportunities to trade the volatility that the earnings report will create. It is a very high risk to hold into the report due to the danger of a 'sell the news response, but if there is a sell-off, it may be an attractive entry point.   Much will depend on how the stock acts in the lead-up to the Thursday night report.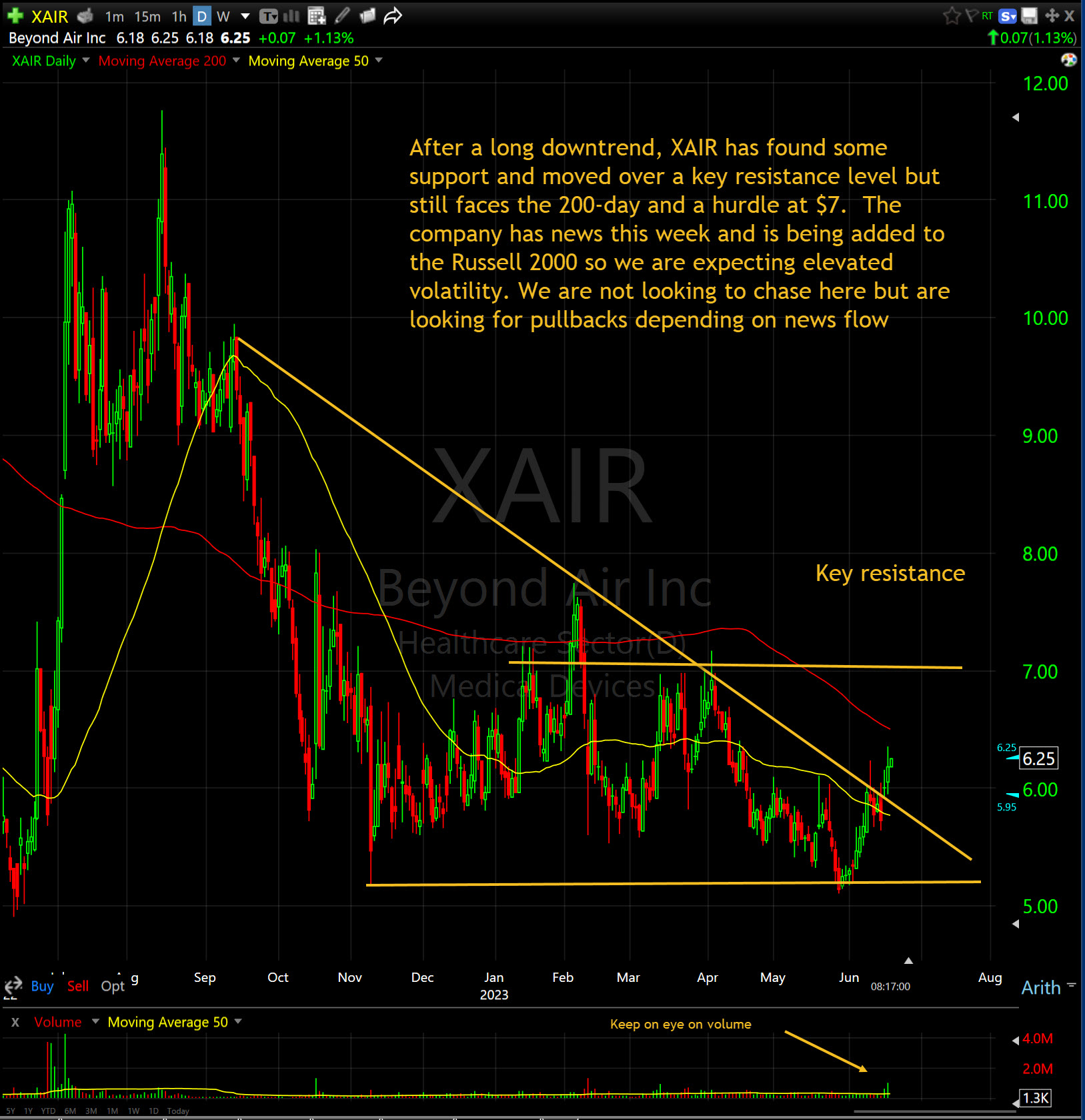 This post is for educational purposes only! This is not advice or a recommendation. We do not give investment advice. Do not act on this post. Do not buy, sell, or trade the stocks mentioned herein. We WILL actively trade this stock differently than discussed herein. We will sell into strength and buy or sell anytime for any reason. We will actively trade into any unusual activity. At the time of this post, principals, employees, and affiliates of Shark Investing, Inc. and/or principals, clients, employees, and affiliates of Hammerhead Financial Strategies, LLC, directly or indirectly, controlled investment and/or trading accounts containing no positions in XAIR. To accommodate the objectives of these investing and/or trading accounts, the trading in these shares will be contrary to and/or inconsistent with the information contained in this posting.