Our Stock of the Week is Wallbox NV (WBX). Wallbox creates advanced electric vehicle charging and energy management systems. Wallbox goes beyond electric vehicle charging to give users the power to control their consumption, save money, and live more sustainably. Wallbox offers a complete portfolio of charging and energy management solutions for residential, semi-public, and public use in more than 113 countries around the world. It was founded in 2015 and is headquartered in Barcelona.
The company had disappointing third-quarter earnings due to slowing sales of electric vehicles, but revenues were up 140% over the prior year, and gross margins were 41.4%. The company also started building its first US factory in Arlington, Texas.
The CEO commented, "The automotive capacity constraints are delaying EV deliveries, which in turn has a near-term effect on our European and home charging businesses. However, I'm encouraged by the improved revenue balance we see from both North America and our fast-charging portfolio, offsetting much of that impact. I remain optimistic the industry will resolve these issues in the coming quarters and look forward to our new products contributing materially to our growth. Our portfolio has never been more complete, and we look forward to aggressively continuing our market share gains. While the economic outlook for many industries looks uncertain, we continue to see numerous opportunities to improve our competitive position and execute our strategy, all while aiming to double the size of the company each year."
The stock has held up well following earnings and looks to have discounted the difficulties over the next two months. There are five analysts with buy ratings during the last three months, and the average target price is $16, with a low of $13 from Canaccord.
Northland initiated coverage with an outperform last week and a target of $16. The analyst stated that the current valuation 'offers a great entry point for investors looking to tap the EV Charging market".
Technically the stock is trying to build support at around the $5.50 level. We expect it will struggle in weak market conditions but should exhibit good relative strength as conditions improve. As always, we will not chase the stock on Monday but will look to aggressively trade it as it develops.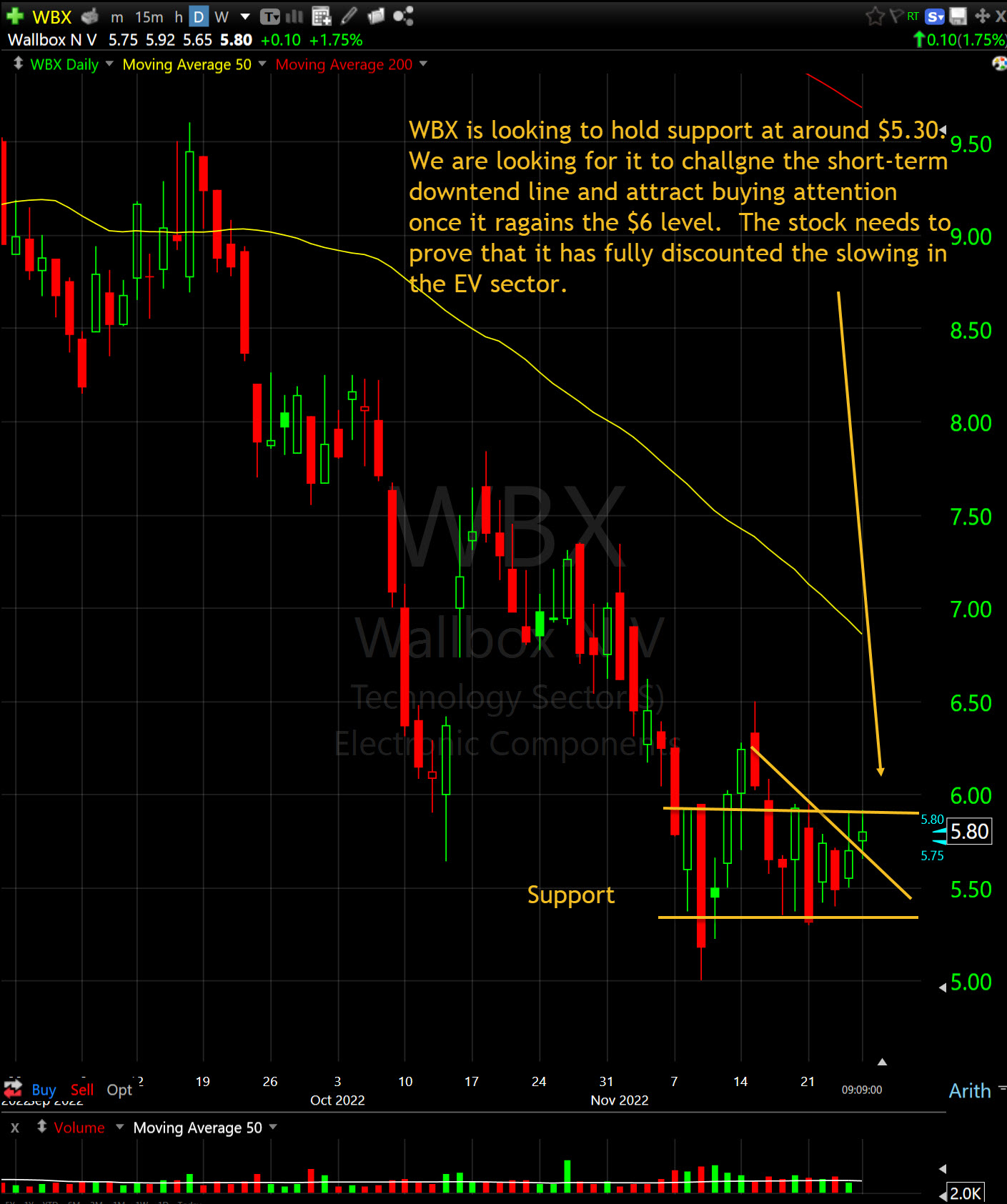 This post is for educational purposes only! This is not advice or a recommendation. We do not give investment advice. Do not act on this post. Do not buy, sell, or trade the stocks mentioned herein. We WILL actively trade this stock differently than discussed herein. We will sell into strength and will buy or sell at any time for any reason. We will actively trade into any unusual activity. At the time of this post, principals, employees, and affiliates of Shark Investing, Inc. and/or principals, clients, employees, and affiliates of Hammerhead Financial Strategies, LLC, directly or indirectly, controlled investment and/or trading accounts containing positions in WBX  To accommodate the objectives of these investing and/or trading accounts, the trading in these shares will be contrary to and/or inconsistent with the information contained in this posting.