Our Stock of the Week is Viking Therapeutics (VKTX). VKTX is focused on the development and commercialization of medicines to treat metabolic and endocrine disorders. Its lead drug is VK2809 which is used to treat non-alcoholic steatohepatitis (NASH). It is expected that Phase 2b trial data will be released in the second quarter of 2023.
VKTX recently made a very strong move on positive data for its obesity drug (VK2735). This is still a couple of years from commercialization, but it is potentially a very large market, and the drug is viewed to have a number of competitive advantages.
Analysts are optimistic about positive data for VK2809 in the next couple of months. There are nine analyses that follow the stock. They all have to buy ratings, and the average price target is $26.78, with a high target of $35 and a low of $19.
Following the obesity drug data, Raymond James raised the firm's price target on Viking Therapeutics to $35 from $12. The analysts commented that Viking's VK2735 showed a peak 7.8% absolute weight loss from baseline in healthy volunteers with a BMI of 30 or more The firm says VK2735 has a shot at becoming the first — or one of the first — oral, incretin-based obesity drugs to hit the market.
While the obesity drug is exciting, the main appeal of VKTX at this point is the data that is coming up on the NASH drug. That catalyst should be fairly soon, and we are looking for positive anticipation to keep the stock in a trading range.
As always, we will not chase the stock on Monday morning but will be looking to aggressively trade volatility as we await the upcoming catalyst.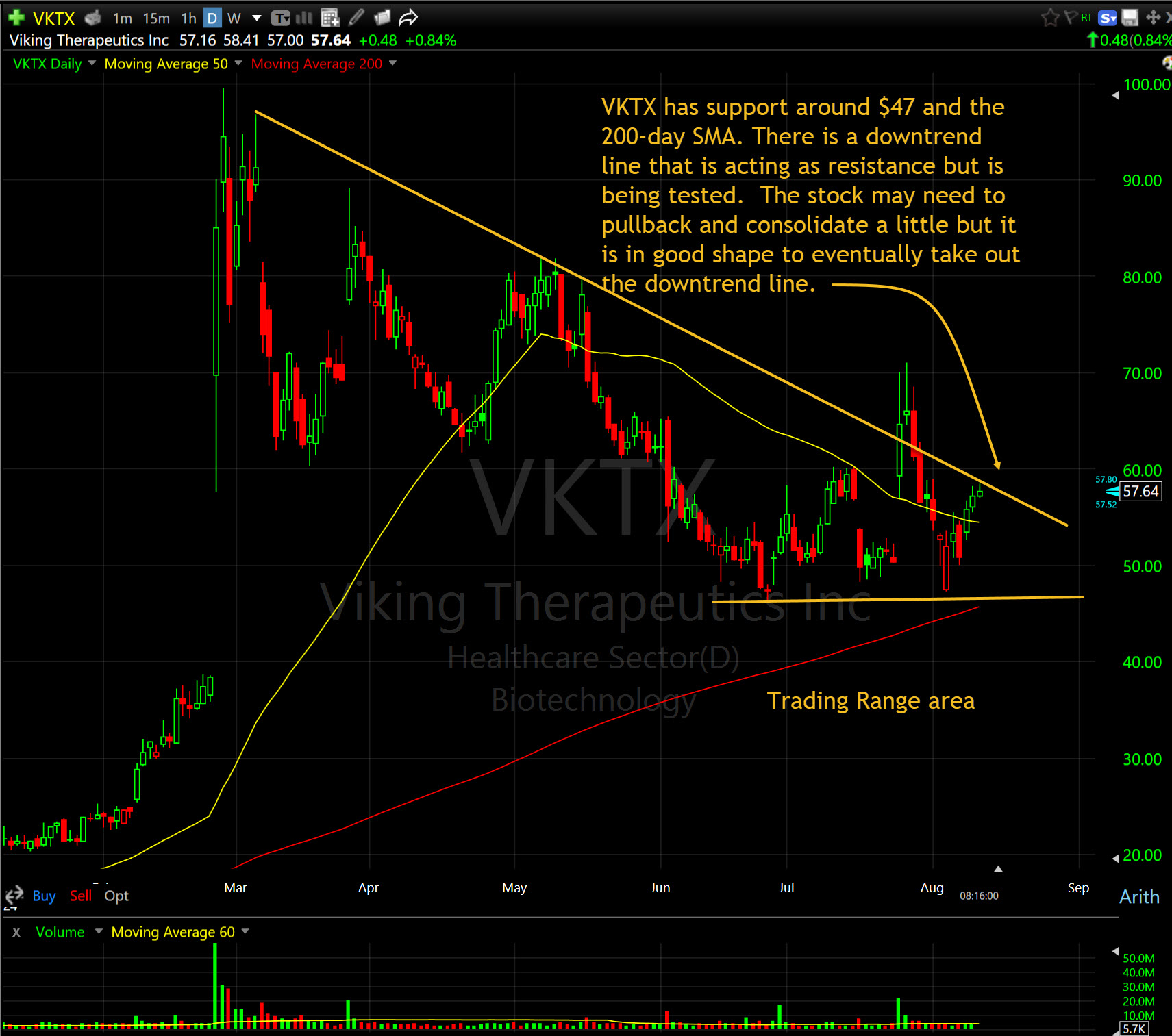 This post is for educational purposes only! This is not advice or a recommendation. We do not give investment advice. Do not act on this post. Do not buy, sell, or trade the stocks mentioned herein. We WILL actively trade this stock differently than discussed herein. We will sell into strength and buy or sell anytime for any reason. We will actively trade into any unusual activity. At the time of this post, principals, employees, and affiliates of Shark Investing, Inc. and/or principals, clients, employees, and affiliates of Hammerhead Financial Strategies, LLC, directly or indirectly, controlled investment and/or trading accounts containing no positions in VKTX To accommodate the objectives of these investing and/or trading accounts, the trading in these shares will be contrary to and/or inconsistent with the information contained in this posting.