Our Stock of the Week is Uber Technologies (UBER). Uber is well known for its mobility division, which offers ridesharing, carsharing, taxis, and public transit in various vehicle types. It offers drivers a financial partnership and is rapidly expanding its advertising business. The company also operates a delivery division that serves restaurants, retailers, groceries, and others. It recently announced a deal with Domino's Pizza to handle deliveries on its platform. Uber's third division is a logistic network that connects shippers and carriers in a digital marketplace.
There is some concern that the resumption of student loan payments may hurt the food delivery business. Still, Uber keeps expanding various partnerships and has announced recent deals with Paypal, The Fresh Market, and Save Markt Companies.
Uber has been focused on expanding its business since its founding in 2011, but in its most recent quarter, the company has made it clear that it is now focusing on profitability. The company is expected to have its first annual profit in 2023 with earnings of $1.02 per share. Current estimates are for EPS to expand 59% in 2024 to $1.62.
Uber is a likely candidate for inclusion in the S&P 500 after another quarter or two of profitability. Companies that were added to the S&P 500 from 2010 to 2023 averaged very strong performance in the year prior to inclusion, according to researchers at Bernstein.
Thirty-two analysts follow the company. Thirty-one have a buy, and one has a hold rating. The average price target is $59.23, with a high of $75 and a low of $51
Technically, the stock has formed a multi-year cup-with-handle on the long-term chart and a six-week cup-with-handle on the short-term chart. It is currently pulling back in the handle phase, and we are looking for some support to form. However, this is a poor market environment, and it may need some time to complete the handle and setup again.
As always, we will not chase strength on Monday but will be looking to trade the stock aggressively as it develops.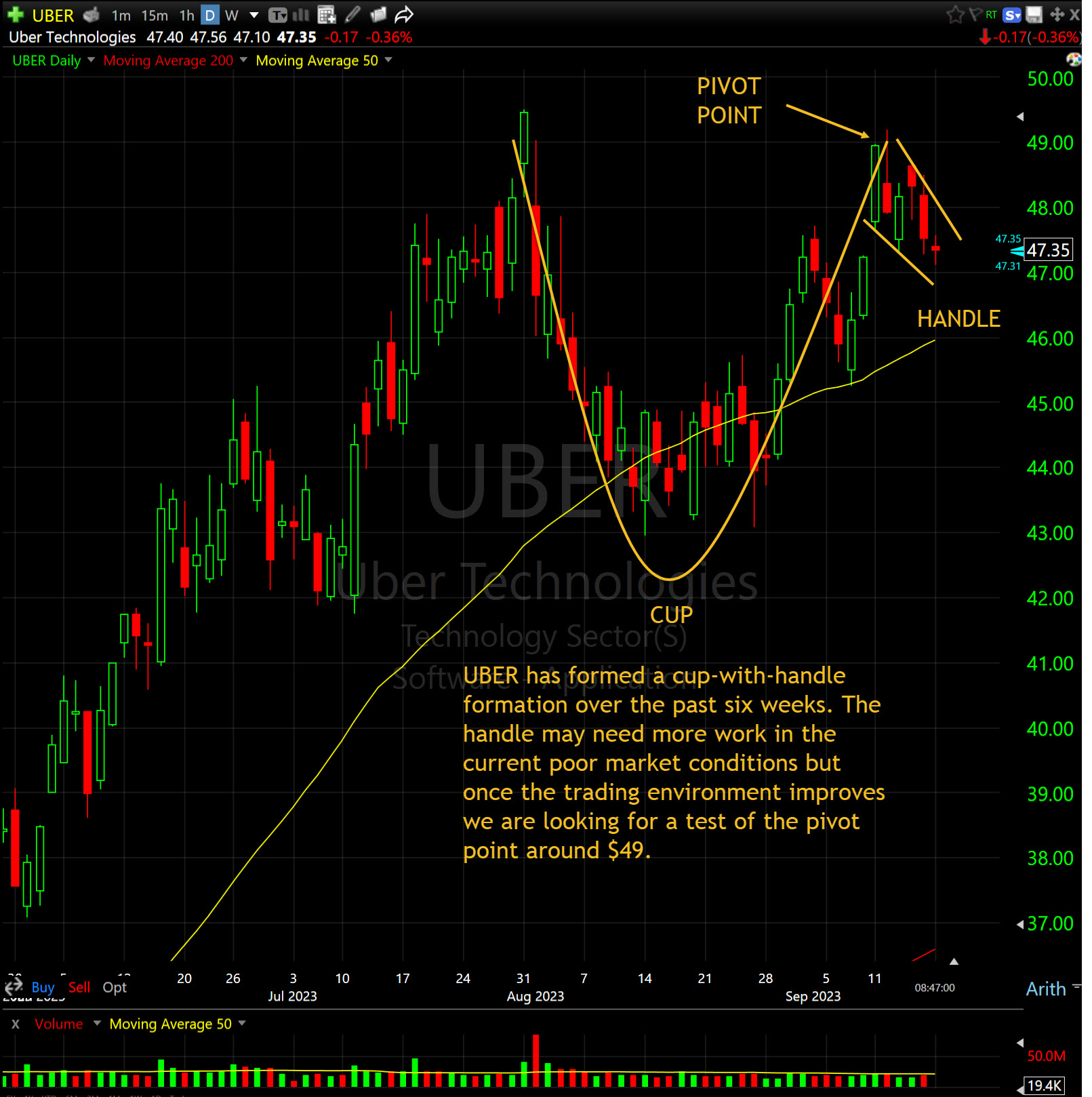 This post is for educational purposes only! This is not advice or a recommendation. We do not give investment advice. Do not act on this post. Do not buy, sell, or trade the stocks mentioned herein. We WILL actively trade this stock differently than discussed herein. We will sell into strength and buy or sell anytime for any reason. We will actively trade into any unusual activity. At the time of this post, principals, employees, and affiliates of Shark Investing, Inc. and/or principals, clients, employees, and affiliates of Hammerhead Financial Strategies, LLC, directly or indirectly, controlled investment and/or trading accounts containing positions in UBER. To accommodate the objectives of these investing and/or trading accounts, the trading in these shares will be contrary to and/or inconsistent with the information contained in this posting.