Our Stock of the Week is Trio-Tech International (TRT). TRT is has been a leading provider of semiconductor testing and burn-in services for more than 40 years. Besides servicing the semiconductor industry, TRT also serves the automotive industry, avionics industry, defense sectors, medical industry, research institutes, as well as OEM / ODM manufacturers.
TRT has exposure to the EV industry and is likely gaining business in that sector as semiconductors become an increasingly important issue in the industry.
In its most recent quarter, TRT saw revenue jump 49% over last year to $10.2 million. It also saw eps grow to $0.23 from a loss of one cent. The market cap of about $35 million is just one times sales versus AEHR, which is trading with a market cap of $400 million on sales of $5.7 million in the most recent quarter. There are no analyst estimates, but the company appears to have strong operational momentum
TRT signed a joint venture agreement on December 6 with a Chinese company and noted, "The new joint venture company will provide testing and burn-in services for a variety of semiconductor components with applications in computing and automotive electronics.
As always, we would not chase TRT at the open on Monday but will look to aggressively trade it as it develops further. Ideally, it will consolidate further before another push higher. It trades thinly and can be volatile.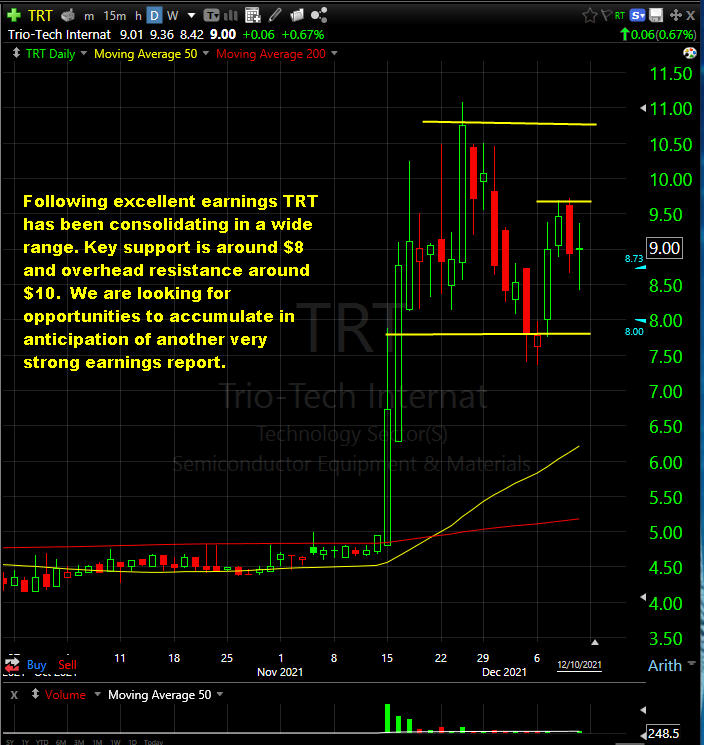 This post is for educational purposes only! This is not advice or a recommendation. We do not give investment advice. Do not act on this post. Do not buy, sell, or trade the stocks mentioned herein. We WILL actively trade this stock differently than discussed herein. We will sell into strength and will buy or sell at any time for any reason. We will actively trade into any unusual activity. At the time of this post, principals, employees, and affiliates of Shark Investing, Inc. and/or principals, clients, employees, and affiliates of Hammerhead Financial Strategies, LLC, directly or indirectly, controlled investment and/or trading accounts containing positions in TRT. To accommodate the objectives of these investing and/or trading accounts, the trading in these shares will be contrary to and/or inconsistent with the information contained in this posting.