Our Stock of the week is Sensus Healthcare, Inc (SRTS). The company develops medical devices that provide non-invasive and affordable treatment of keloids, melanoma, and non-melanoma skin malignancies. Over more than ten years, it has developed and patented superficial radiation treatment (SRT) low-energy x-ray radiation technology. The company is now moving into aesthetic lasers and its needleless TransDermal Infusion System was recently purchased by Hair Enhancement Centers, HEC, a rapidly-growing chain of Texas-based hair loss treatment centers.
The stock was chugging along very nicely but was cut in half following its third-quarter earnings when there was a small eps and revenue miss. Management made comments about the impact of a hurricane on some medical accounts and the uncertainty of the economy. The stock has little coverage and trades very thinly, and as a result, didn't receive any strong defense.
The worries appear to have been overblown. On Friday, the company announced that preliminary revenues for the three months ended December 31, 2022, are expected to exceed $13 million. For the full year 2022, revenues are expected to exceed $44 million, representing growth of approximately 60% over 2021. Fourth quarter 2022 revenues are expected to include more than $500,000 from the company's aesthetics business. Sensus also announces it expects that both the fourth quarter and the full year will be profitable.
"We're delighted to report topline momentum during the fourth quarter and to share our expectations for continued growth in revenues and profitability in 2023," said Joe Sardano, chairman and chief executive officer of Sensus Healthcare.  "Our robust marketing programs, combined with an expanded product offering and the opening of new customer channels, are expected to contribute to our growth trajectory."
The company plans to continue adding to its domestic sales force and increase its trade show presence during 2023. Outside of the U.S., the company intends to expand its geographic reach in both the EU and Latin America. It also plans to expand its product portfolio in the second half of 2023, with several submissions to the U.S. Food and Drug Administration expected to be made for new technologies.
Sensus Healthcare plans to announce 2022 fourth quarter and full year financial results and hold an investment community conference call after the close of the U.S. stock markets on February 9, 2023.
The company has over $2.30 per share in cash on the balance sheet, and current estimates for 2023 are earnings of $0.88, which is a forward PE of around 10x.
Given the growth potential and the strong balance sheet, we believe that there will be an opportunity to build a position in the stock prior to the fourth quarter earnings. As always, we will not chase strength to start the week but will look to accumulate shares on pullbacks into the gap that was created by the positive news this past Friday. There is very strong support at $7.50, but this news should help support to form around the 50-day sma at $7.70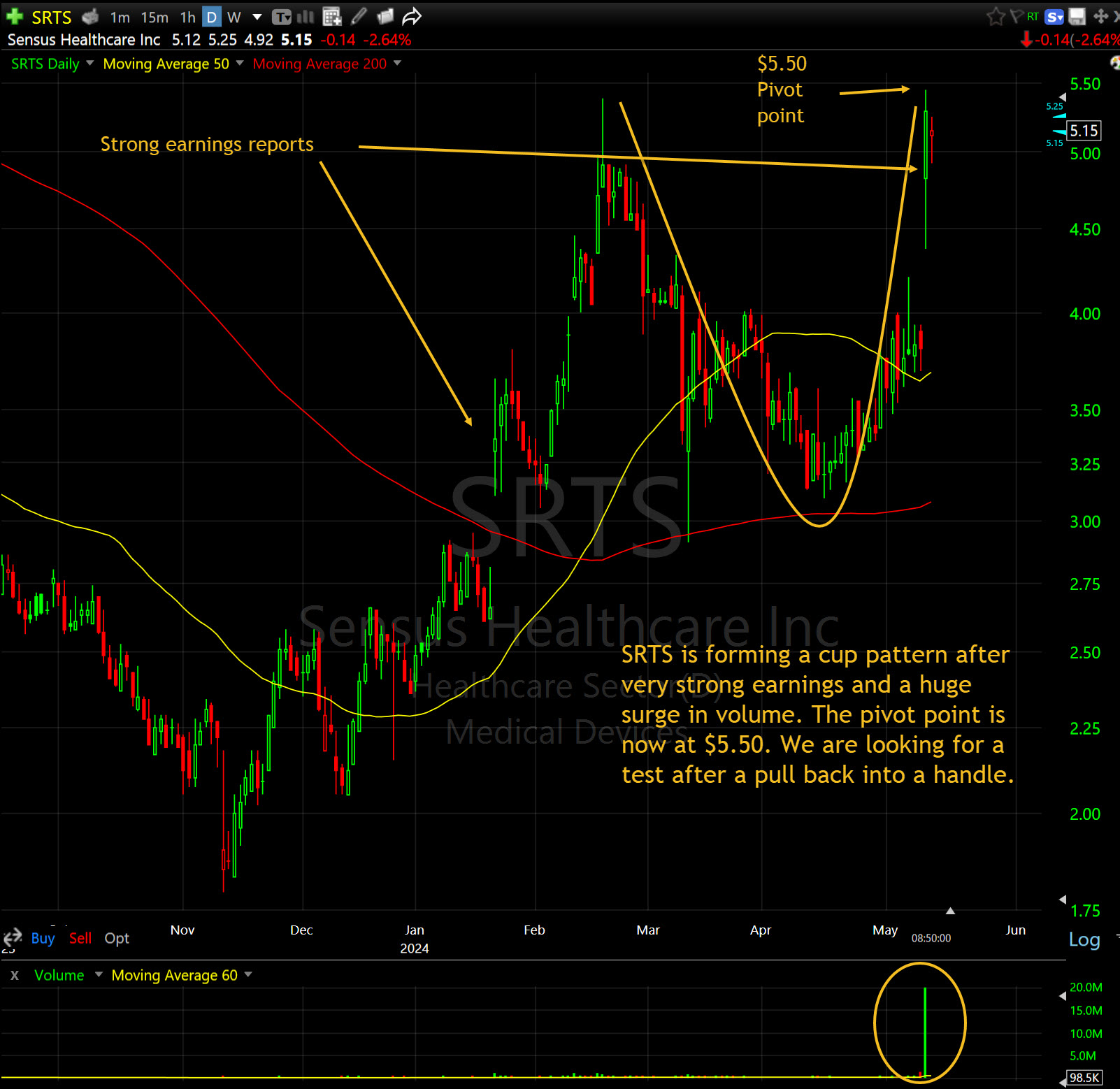 This post is for educational purposes only! This is not advice or a recommendation. We do not give investment advice. Do not act on this post. Do not buy, sell, or trade the stocks mentioned herein. We WILL actively trade this stock differently than discussed herein. We will sell into strength and will buy or sell at any time for any reason. We will actively trade into any unusual activity. At the time of this post, principals, employees, and affiliates of Shark Investing, Inc. and/or principals, clients, employees, and affiliates of Hammerhead Financial Strategies, LLC, directly or indirectly, controlled investment and/or trading accounts containing no positions in SRTS.  To accommodate the objectives of these investing and/or trading accounts, the trading in these shares will be contrary to and/or inconsistent with the information contained in this posting.