Our Stock of the Week is SAB biotherapeutics (SABS). SABS is a clinical-stage biotechnology company that recently DeSPACed after completing its merger with Big Cypress Acquisition Corporation in October.
SABS is engaged in advancing immunotherapies leveraging human polyclonal antibodies. The company applies advanced genetic engineering and antibody science to develop transchromosomic (Tc) Bovine that produces human antibodies targeted at specific diseases, including infectious diseases, such as COVID-19 and influenza; immune system disorders, including type 1 diabetes and organ transplantation; and cancer. The company produces human polyclonal immunotherapies; and advancing multiple clinical programs, and has collaborations with the US government and pharmaceutical companies worldwide.
What this means is that SABS is working on a treatment for COVID that will withstand mututions in the virus, such as the Omicron variant that hit in the last week.
The company is close to releasing clinic data, and if it shows promise, the program is likely to advance quickly. The company has funding from the Department of Defense and other government programs that have evaluated early results.
Like all biotechnology names, there is a substantial risk that the data may not meet primary endpoints, but early indications are strong, and with the heightened awareness of mutation of COVID, SABS will likely garner more attention.
Data could hit at any time, so it is extremely important to be aware of the high risk.
Technically we are looking for positive anticipation to move the stock over recent highs and attract momentum interest. As always, we would not chase strength on Monday morning but will be looking to aggressively trade the stock into increased volatility.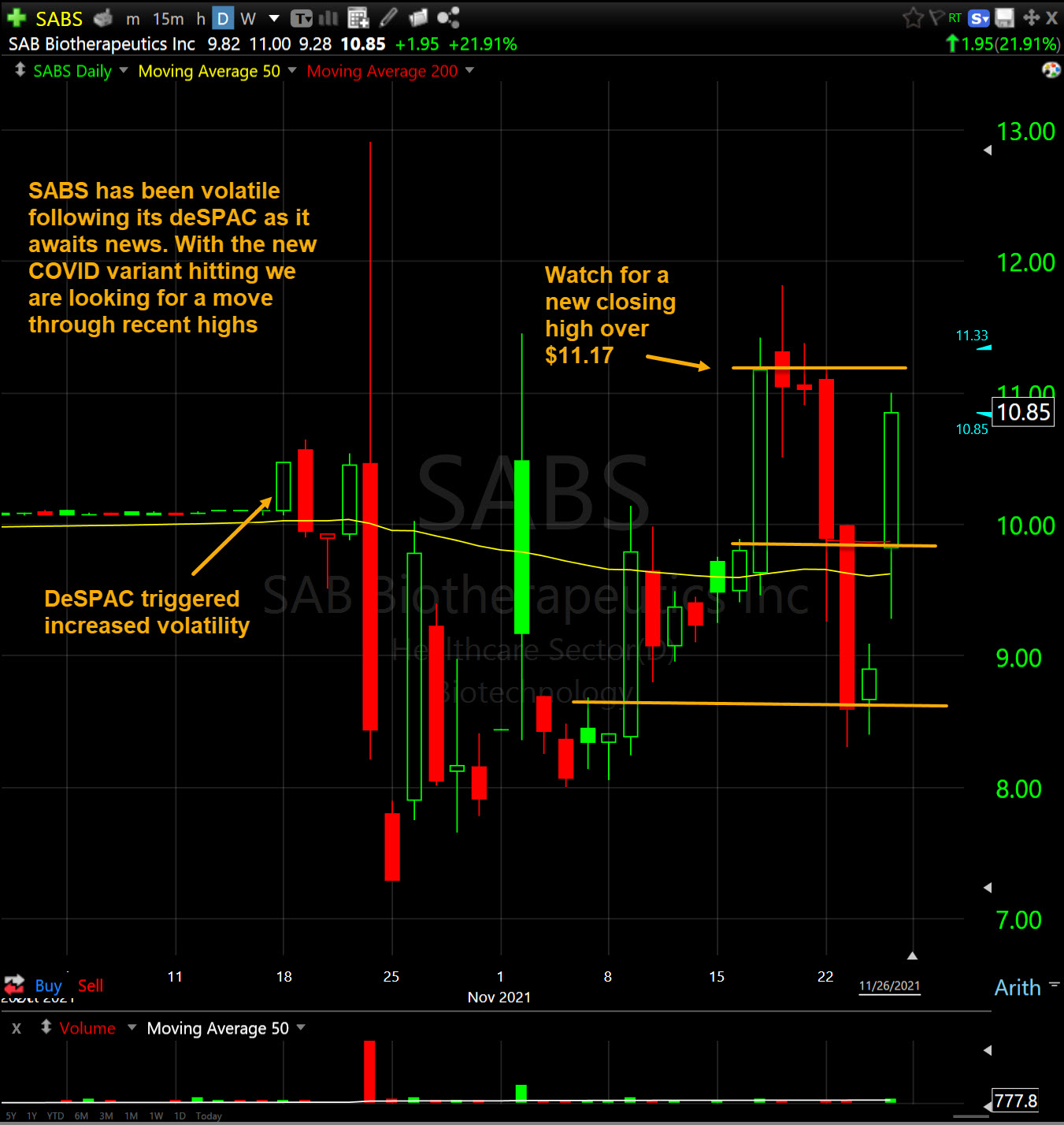 This post is for educational purposes only! This is not advice or a recommendation. We do not give investment advice. Do not act on this post. Do not buy, sell, or trade the stocks mentioned herein. We WILL actively trade this stock differently than discussed herein. We will sell into strength and will buy or sell at any time for any reason. We will actively trade into any unusual activity. At the time of this post, principals, employees, and affiliates of Shark Investing, Inc. and/or principals, clients, employees, and affiliates of Hammerhead Financial Strategies, LLC, directly or indirectly, controlled investment and/or trading accounts containing positions in SABS. To accommodate the objectives of these investing and/or trading accounts, the trading in these shares will be contrary to and/or inconsistent with the information contained in this posting.