Our Stock of the Week is Roivant Sciences Ltd (ROIV). ROIV is a biopharmaceutical company with several drug candidates in the pipeline. After a long decline that started at the beginning of 2022, ROIV made a strong move off lows in early October and ended up accelerating higher at the start of the new year after announcing positive results from Phase 2b for its treatment for patients with moderate to severe ulcerative colitis.
The company used the positive news to issue a secondary offering at $7.50 in early February. Shares rebounded on heavy volume into news of positive results for its 'best in class' treatment for atopic dermatitis. Some physicians are using it off-label while awaiting FDA approval for this indication.
JPMorgan upped its target price on the stock to $14 from $12 last week and maintained an overweight rating on the stock. There are seven analysts with recent coverage of the stock. The average target price is $14.80, with a high of $19 from Truist.
Technically the stock is from a base with good support and pushing toward highs. It looks in a good position to run in favorable market conditions. As always, we will not chase the stock on Monday but will look to trade it aggressively as conditions develop.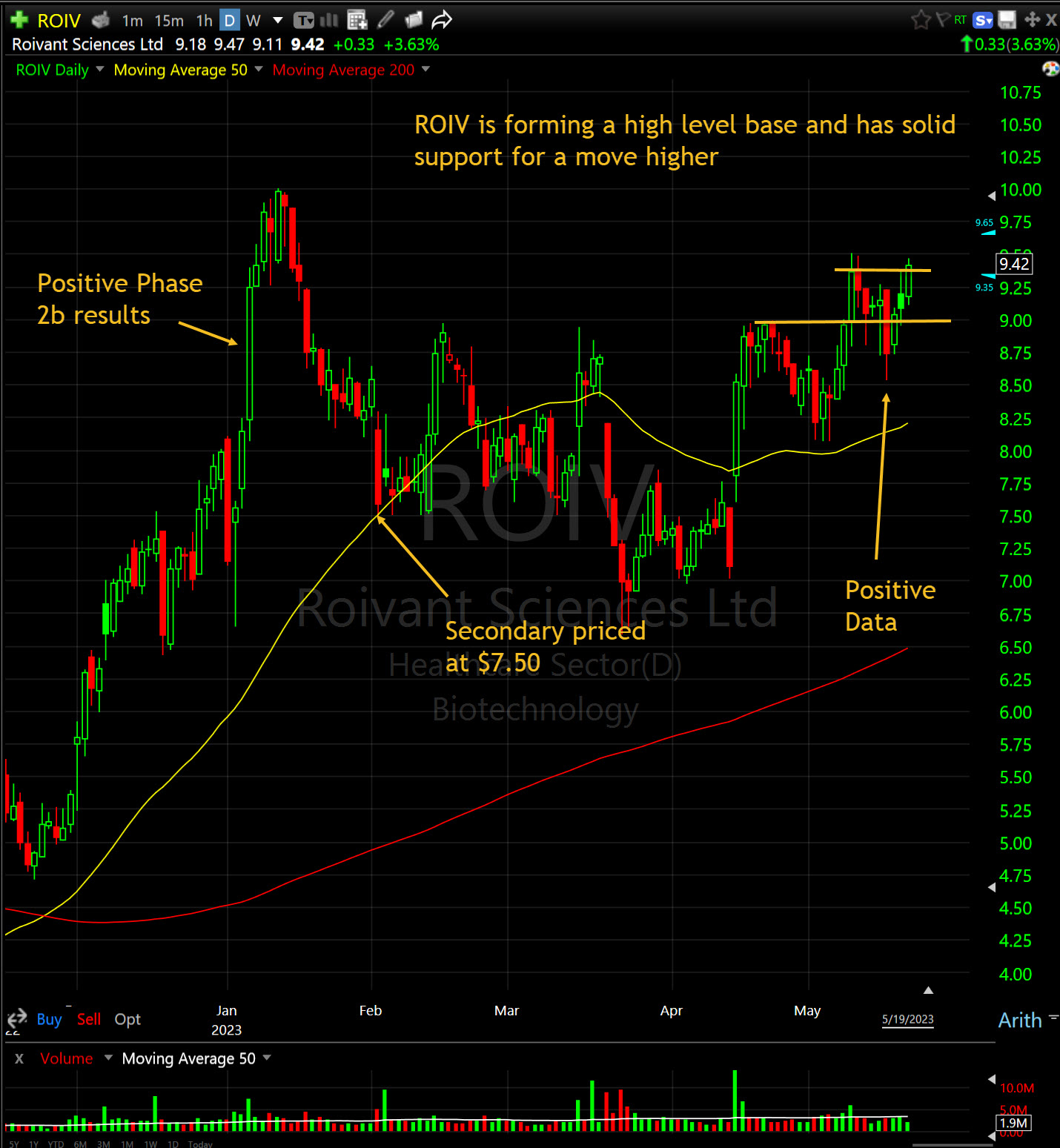 This post is for educational purposes only! This is not advice or a recommendation. We do not give investment advice. Do not act on this post. Do not buy, sell, or trade the stocks mentioned herein. We WILL actively trade this stock differently than discussed herein. We will sell into strength and buy or sell anytime for any reason. We will actively trade into any unusual activity. At the time of this post, principals, employees, and affiliates of Shark Investing, Inc. and/or principals, clients, employees, and affiliates of Hammerhead Financial Strategies, LLC, directly or indirectly, controlled investment and/or trading accounts containing no positions in ROIV. To accommodate the objectives of these investing and/or trading accounts, the trading in these shares will be contrary to and/or inconsistent with the information contained in this posting.