Our Stock of the week is Rocket Pharmaceuticals Inc (RCKT). RCKT is a clinical-stage biopharmaceutical company. It is focused on developing gene therapies for rare and devastating pediatric diseases. The company's pipeline products include RP-A501 for Danaon Disease, RP-L102 for Fanconi Anemia, RP-L201 for Leukocyte Adhesion, RP-L301 for Pyruvate Kinase Deficiency, and RP-L401 for Infantile Malignant Osteopetrosis.
On January 9, the company expanded its gene therapy portfolio and announced positive updated phase I data for its Danon Disease indications. There are upcoming catalysts likely to occur in the second quarter of 2023.
There are eleven analysts with price targets in the last three months. The average target price is $49.89, with a high forecast of $75 and a low of $33. UBS has mentioned a much higher price target down the road.
After a steep decline from March 2021 through May this year, RCKT bounced sharply off lows before hitting resistance and falling back in late August as the broader market struggled. The stock pulled back again in December but is not testing highs around the $23 level. There is a low-level cup-with-handle pattern, but the key here will be market conditions in the short term.
As always, we will not chase strength on Monday morning but will look for opportunities to trade into volatility. We will be looking to add on pullbacks to the 50-day simple moving average of around $20.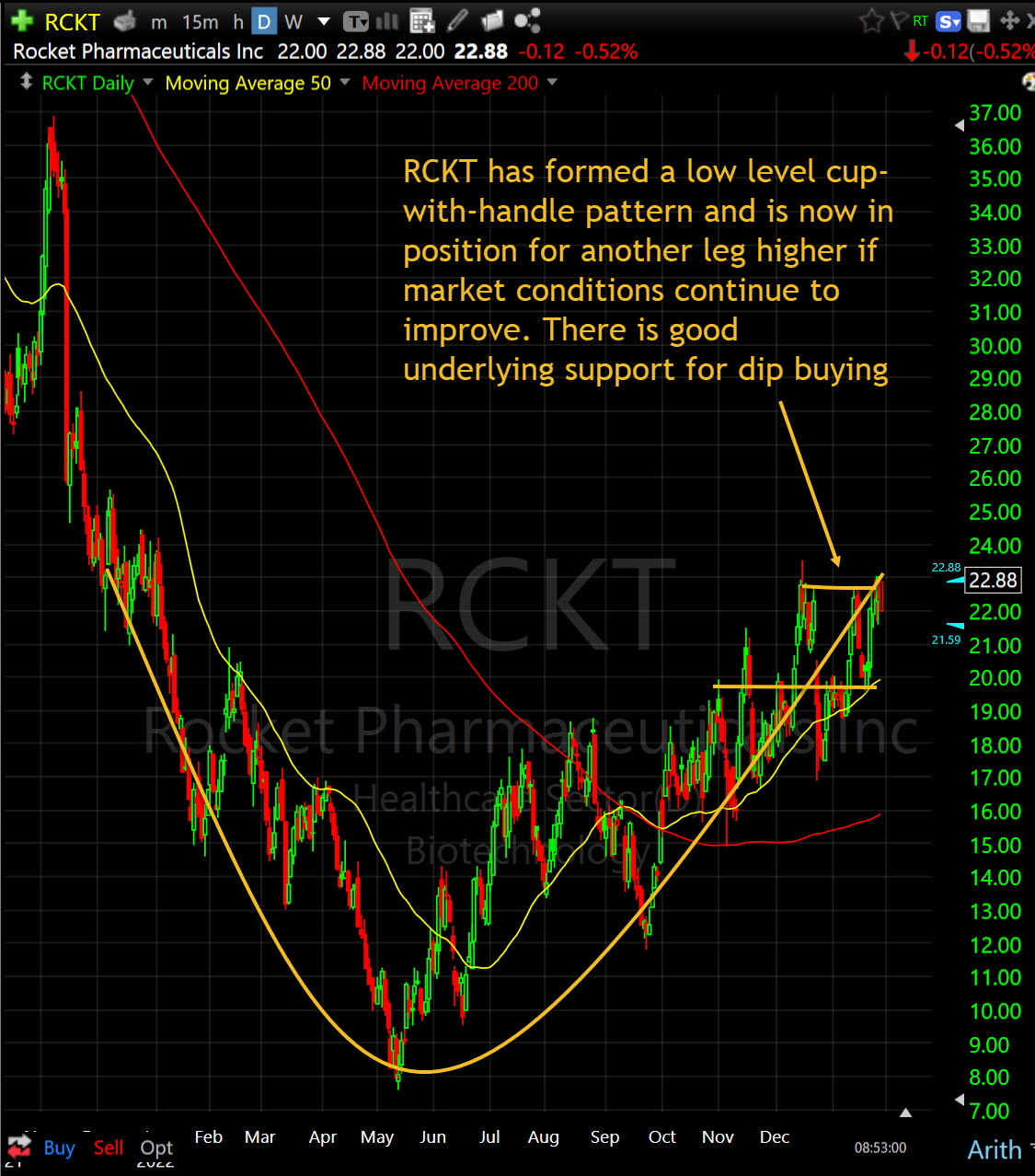 This post is for educational purposes only! This is not advice or a recommendation. We do not give investment advice. Do not act on this post. Do not buy, sell, or trade the stocks mentioned herein. We WILL actively trade this stock differently than discussed herein. We will sell into strength and will buy or sell at any time for any reason. We will actively trade into any unusual activity. At the time of this post, principals, employees, and affiliates of Shark Investing, Inc. and/or principals, clients, employees, and affiliates of Hammerhead Financial Strategies, LLC, directly or indirectly, controlled investment and/or trading accounts containing no positions in RCKT.  To accommodate the objectives of these investing and/or trading accounts, the trading in these shares will be contrary to and/or inconsistent with the information contained in this posting.