Our Stock of the Week is Replimune Group, Inc. (REPL). REPL is a clinical-stage biotechnology company focused on treatments that activate the immune system to battle cancer. The company recently announced a collaboration agreement with Roche for programs dealing with colorectal cancer and hepatocellular carcinoma. The company also announced a secondary offer that, combined with the Roche deal, should fund development for several years.
The company is still development stage and will not have significant revenue for a couple of years, but analysts believe that the technology represents a strong value. There are six analysts with buy ratings on the stock. The average target price is $48.83, which is an 80% gain from current levels.
Technically the chart is very attractive as it forms a high-level base after digesting positive news and a secondary offering. As always, we would not chase a strong open but will look to aggressively trade the stock as it continues to test key resistance at the $28 level. We are looking for momentum traders to chase a breakout move, but overall market conditions could hold it back. The cancer-related biotechnology sector has been one of the better niches recently.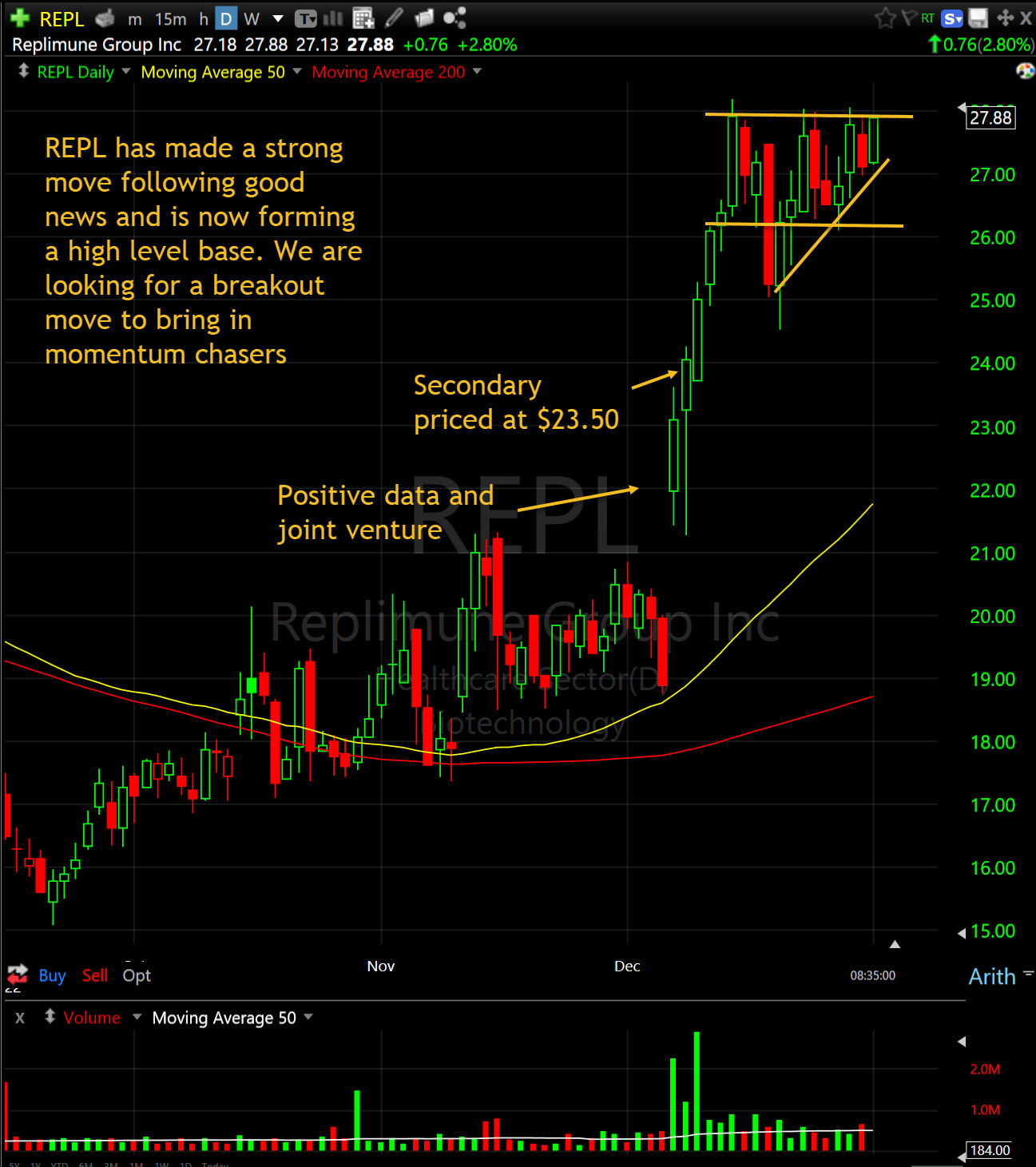 This post is for educational purposes only! This is not advice or a recommendation. We do not give investment advice. Do not act on this post. Do not buy, sell, or trade the stocks mentioned herein. We WILL actively trade this stock differently than discussed herein. We will sell into strength and will buy or sell at any time for any reason. We will actively trade into any unusual activity. At the time of this post, principals, employees, and affiliates of Shark Investing, Inc. and/or principals, clients, employees, and affiliates of Hammerhead Financial Strategies, LLC, directly or indirectly, controlled investment and/or trading accounts containing no positions in REPL .  To accommodate the objectives of these investing and/or trading accounts, the trading in these shares will be contrary to and/or inconsistent with the information contained in this posting.