Our Stock of the Week is Origin Materials, Inc. (ORGN). ORGN calls itself the world's leading carbon-negative materials company. Origin has developed a platform for turning the carbon found in inexpensive, plentiful, non-food biomass such as sustainable wood residues into useful materials while capturing carbon. Origin's patented technology platform can revolutionize the production of a wide range of end products, including clothing, textiles, plastics, packaging, car parts, tires, carpeting, toys, and more, with a more than $1 trillion market. The company has a growing list of major global customers and investors, including Pepsico, nestle, Danone, and Ford. Currently, ORGN has $9 billion in capacity reservations and off-take reservations.
Origin went public in a SPAC transaction in September 2020, and like most SPACs, it has struggled, but it just announced that it has completed the construction of its first plant and plans to be operational by the end of the first quarter.
Origin also announced that the Louisana State Bond Commission approved financing for its second plant using tax-exempt bonds.
The stock has been quite volatile lately, with a strong run, but there are several catalysts coming up. ORGN was mentioned in an article in Barron's this weekend as a play on plastics.
ORGN is scheduled to announce its earnings this Thursday and is expected to provide guidance on revenue, EBITDA, and other financial matters for the full year 2023. The co-founder of ORGN will be speaking at a conference on March 2. Revenue production should begin soon.
Technically the stock sold off at the end of 2022 on tax loss selling but bounced back strongly due to the January Effect and news of the Louisiana bond financing. After a strong run, the stock pulled back due to a small delay in plant operations.
We are looking for nearby support to hold the stock in this range and for the potentially positive news flow to bring in buyers. As always, we will not chase the stock to start the week but will look to aggressively trade the position into volatility as we build a core position.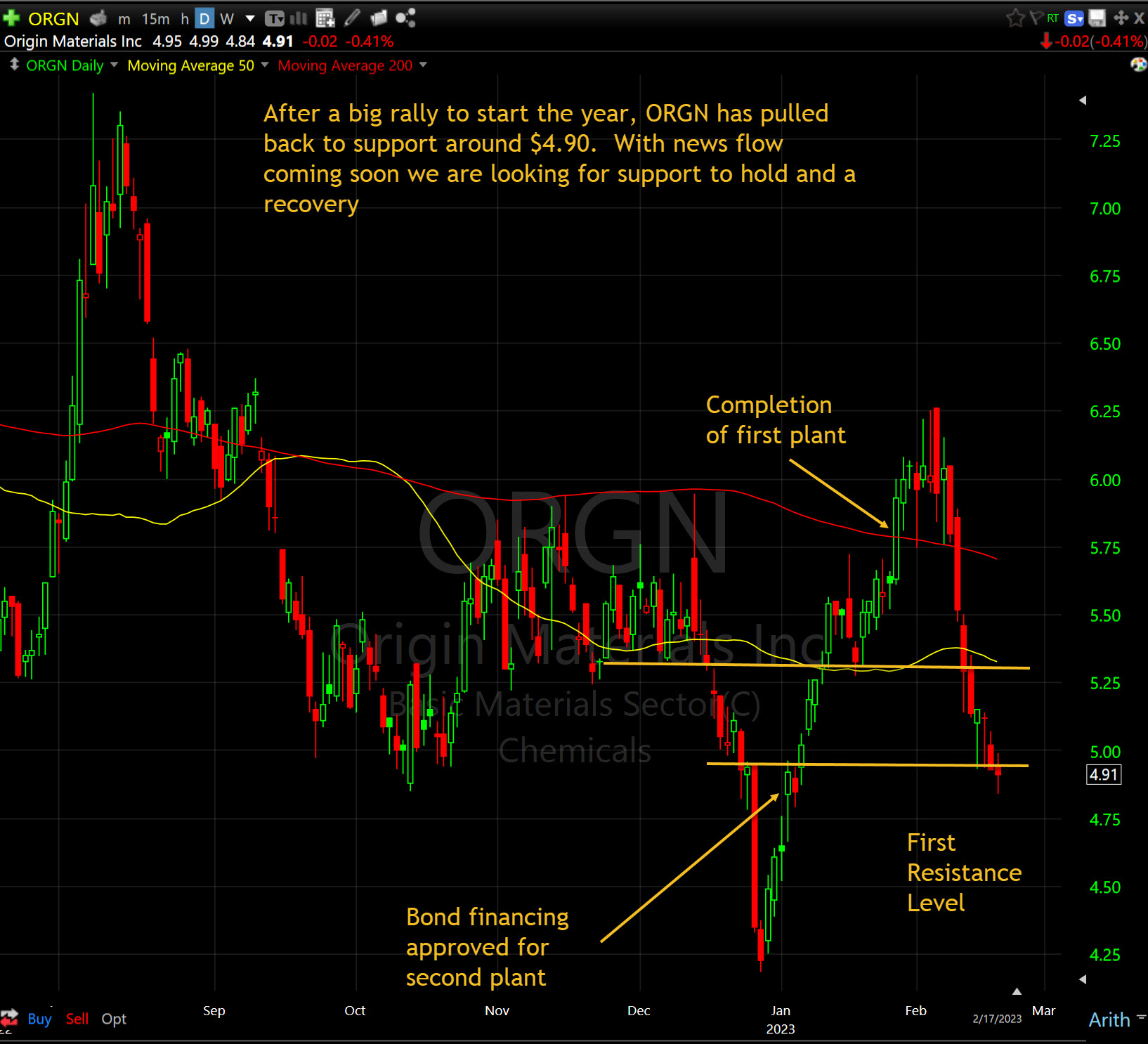 This post is for educational purposes only! This is not advice or a recommendation. We do not give investment advice. Do not act on this post. Do not buy, sell, or trade the stocks mentioned herein. We WILL actively trade this stock differently than discussed herein. We will sell into strength and buy or sell anytime for any reason. We will actively trade into any unusual activity. At the time of this post, principals, employees, and affiliates of Shark Investing, Inc. and/or principals, clients, employees, and affiliates of Hammerhead Financial Strategies, LLC, directly or indirectly, controlled investment and/or trading accounts containing positions in ORGN. To accommodate the objectives of these investing and/or trading accounts, the trading in these shares will be contrary to and/or inconsistent with the information in this posting.