Our Stock of the Week is On Holding AG (ONON). ONON is a Switzerland-based supplier of premium footwear, apparel, and accessories for high-performance running, outdoor, and daily activities. ONON seeks to revolutionize the sensation of running by empowering people "to run on clouds." Its award-winning CloudTec technology has attracted a fast-growing global fan base and has made it one of the fastest-growing athletic sports companies in the world.
In the prior two calendar years, sales have grown 68.7%, and 70.4% year over year has guided to FY23 revs of CHF 1.74 bln. In its most recent quarter, revenues jumped 80%, and eps increased to $0.16 from $0.5 in the prior year. EPS for the year is expected to be up about 85%
The highly successful introduction of the Cloudsurfer 6 has made the stock a big mover this year, and it is set to put up a solid report in about a week.
As always, we would not chase the stock to start the week but are looking for support at around $34.50 as a potential entry point. We are not fans of betting on earnings and would not establish a significant position into the report but would be interested in trading it more aggressively after earnings are out. It should remain a top momentum name with tremendous revenue growth.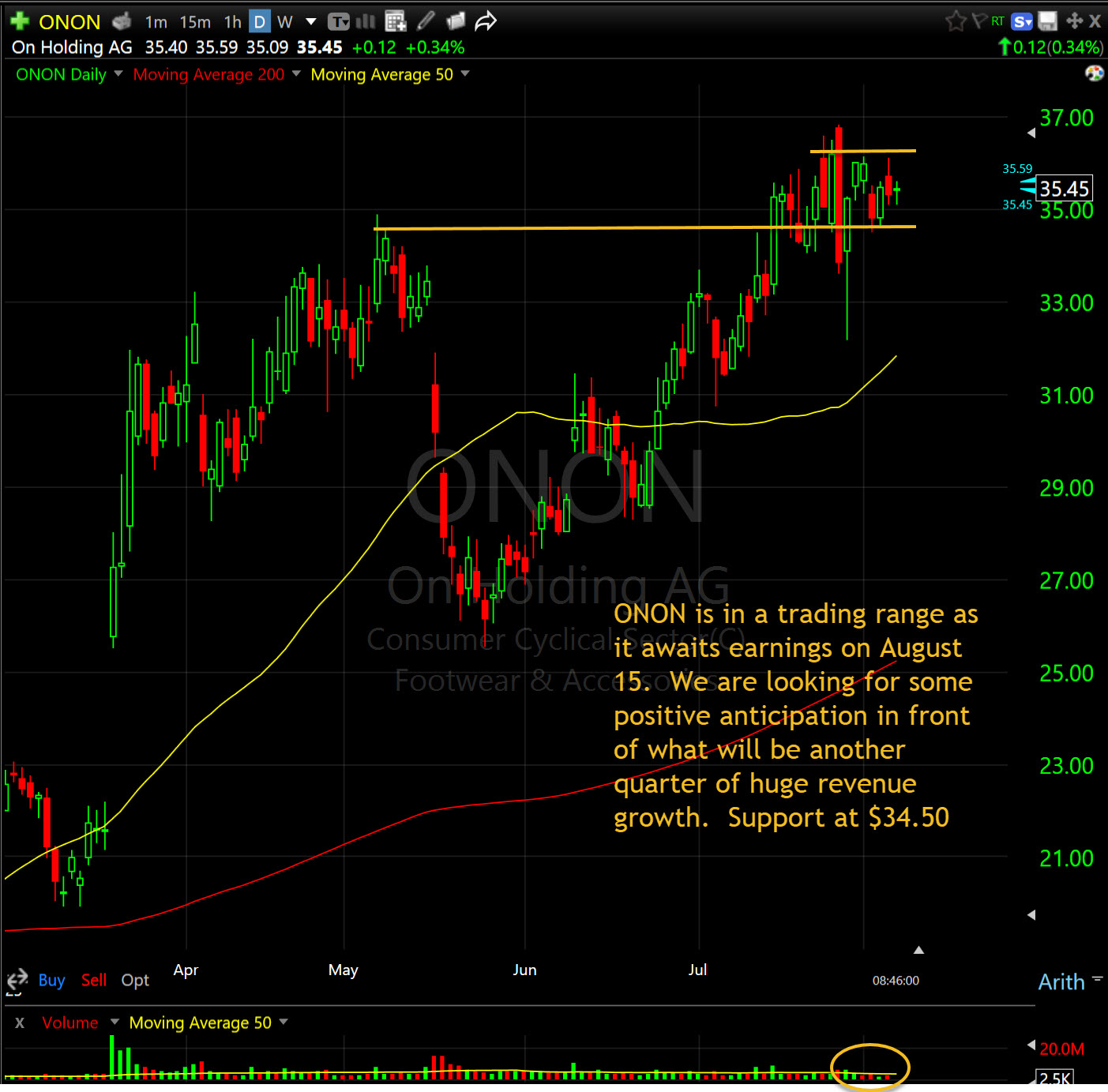 This post is for educational purposes only! This is not advice or a recommendation. We do not give investment advice. Do not act on this post. Do not buy, sell, or trade the stocks mentioned herein. We WILL actively trade this stock differently than discussed herein. We will sell into strength and buy or sell anytime for any reason. We will actively trade into any unusual activity. At the time of this post, principals, employees, and affiliates of Shark Investing, Inc. and/or principals, clients, employees, and affiliates of Hammerhead Financial Strategies, LLC, directly or indirectly, controlled investment and/or trading accounts containing no positions in ONON.. To accommodate the objectives of these investing and/or trading accounts, the trading in these shares will be contrary to and/or inconsistent with the information contained in this posting.