Our Stock of the Week is Ocular Therapeutix, Inc. (OCUL).   "Ocular Therapeutix, Inc. is a biopharmaceutical company focused on the formulation, development, and commercialization of innovative therapies for diseases and conditions of the eye using its proprietary bioresorbable hydrogel-based formulation technology. OCUL's first commercial drug product, DEXTENZA®, is an FDA-approved corticosteroid for treating ocular inflammation and pain following ophthalmic surgery and ocular itching associated with allergic conjunctivitis. OCUL's earlier stage development assets include OTX-TKI (axitinib intravitreal implant), currently in Phase 1 clinical trials for the treatment of wet AMD and diabetic retinopathy; OTX-TIC (travoprost intracameral implant), currently in Phase 2 clinical trial for the treatment of primary open-angle glaucoma or ocular hypertension; and OTX-DED (dexamethasone intracanalicular insert) for the short-term treatment of the signs and symptoms of dry eye disease; and OTX-CSI (cyclosporine intracanalicular insert) for the chronic treatment of dry eye disease, both of which have completed Phase 2 clinical trials."
This week the company is presenting data at the annual meeting of the Association for Research in Vision and Ophthalmology (ARVO). "At this year's Annual Meeting, we are thrilled to be presenting clinical and pre-clinical data from our lead programs as well as from programs that are a part of our early-stage pipeline," commented Rabia Gurses-Ozden, MD, Chief Medical Officer of Ocular Therapeutix.
The key to OCUL is that its hydrogel-based formulation technology is a platform that allows it to deliver a variety of drugs directly to the eye without injections. There are several billion-dollar markets that OCUL is addressing, such as wet AMD, where abnormal blood vessels grow in the wrong place in the back of your eye.
The company has some upcoming news flow that, combined with the positive chart setup, puts it in an attractive position.
OCUL made a strong move on Friday after Baird initiated it with an 'outperform' rating and set an $18 target and commented, "Ocular's OTX-TKI has shown "robust" Phase 1 data in reducing the treatment burden and keeping a high percentage of wet age-related macular degeneration patients VEGF-free at ten months." The firm believes OTX-TKI could offer a meaningfully longer treatment interval and take a share in wet AMD, a "massive market." It also sees "strong rationale" in diabetic retinopathy, another potentially multi-billion-dollar market.
Technically the stock is hitting an overhead resistance around $6.50 for the third time since September 2021. It is in a good position for a breakout, and the increased volume on Friday looks favorable. As always, we will not chase the stock on Monday morning but will look to trade it into volatility aggressively.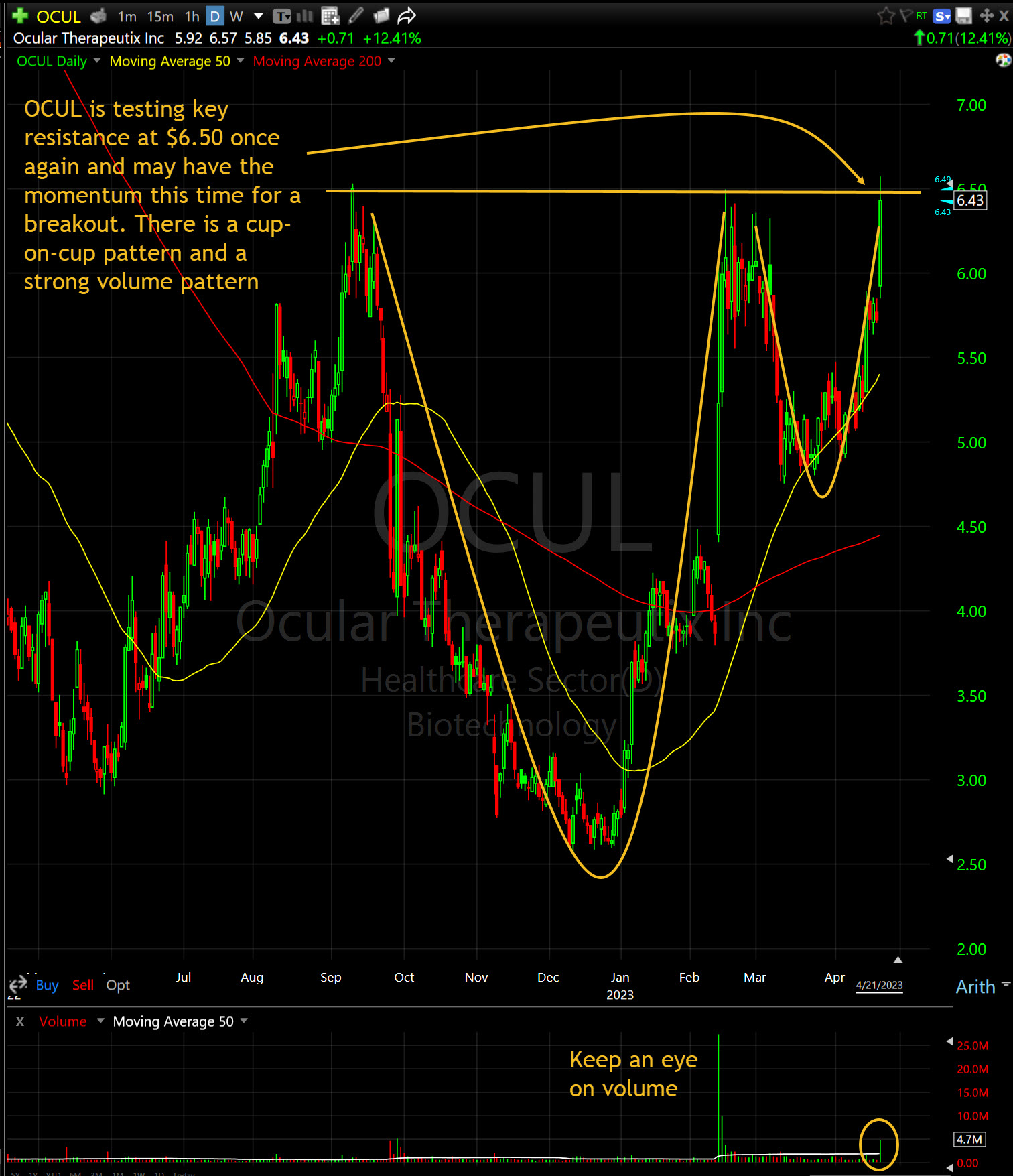 This post is for educational purposes only! This is not advice or a recommendation. We do not give investment advice. Do not act on this post. Do not buy, sell, or trade the stocks mentioned herein. We WILL actively trade this stock differently than discussed herein. We will sell into strength and buy or sell anytime for any reason. We will actively trade into any unusual activity. At the time of this post, principals, employees, and affiliates of Shark Investing, Inc. and/or principals, clients, employees, and affiliates of Hammerhead Financial Strategies, LLC, directly or indirectly, controlled investment and/or trading accounts containing positions in OCUL To accommodate the objectives of these investing and/or trading accounts, the trading in these shares will be contrary to and/or inconsistent with the information contained in this posting.