Our Stock of the Week is Ocular Therapeutics (OCUL). OCUL develops therapies and drugs for the treatment of eye diseases and conditions. Ocular is using its hydrogel delivery platform, which allows various drugs to be released into the eye over time to treat various eyes condition
OCUL currently has two launched medicines ReSure is a biologically degradable sealant following corneal incision that is convenient because it doesn't have to be removed.  Dextenza is an insert for the treatment of ocular inflammation and pain after eye surgery.
On February 11, OCUL presented the 10-month data for its Phase 1 trial that assesses the efficacy/safety of OTX-TKI in patients suffering wet-AMD, diabetic retinopathy, and other retinal diseases. The results were safe and robust, and the stock responded with a sharp move higher.
OCUL is scheduled to meet with the FDA to discuss further development, and that is the most likable catalyst for a move out of the current trading range. The company is scheduled to report earnings on Monday, March 6, after the close.
Technically the stock has formed a cup-and-handle pattern over the past six months or so and also has a trading range that has developed over the past few weeks. We are looking for a move out of the trading range to attract breakout buys.
As always, we will not chase strength on Monday morning but will look to aggressively trade into the reaction following the news on Monday night.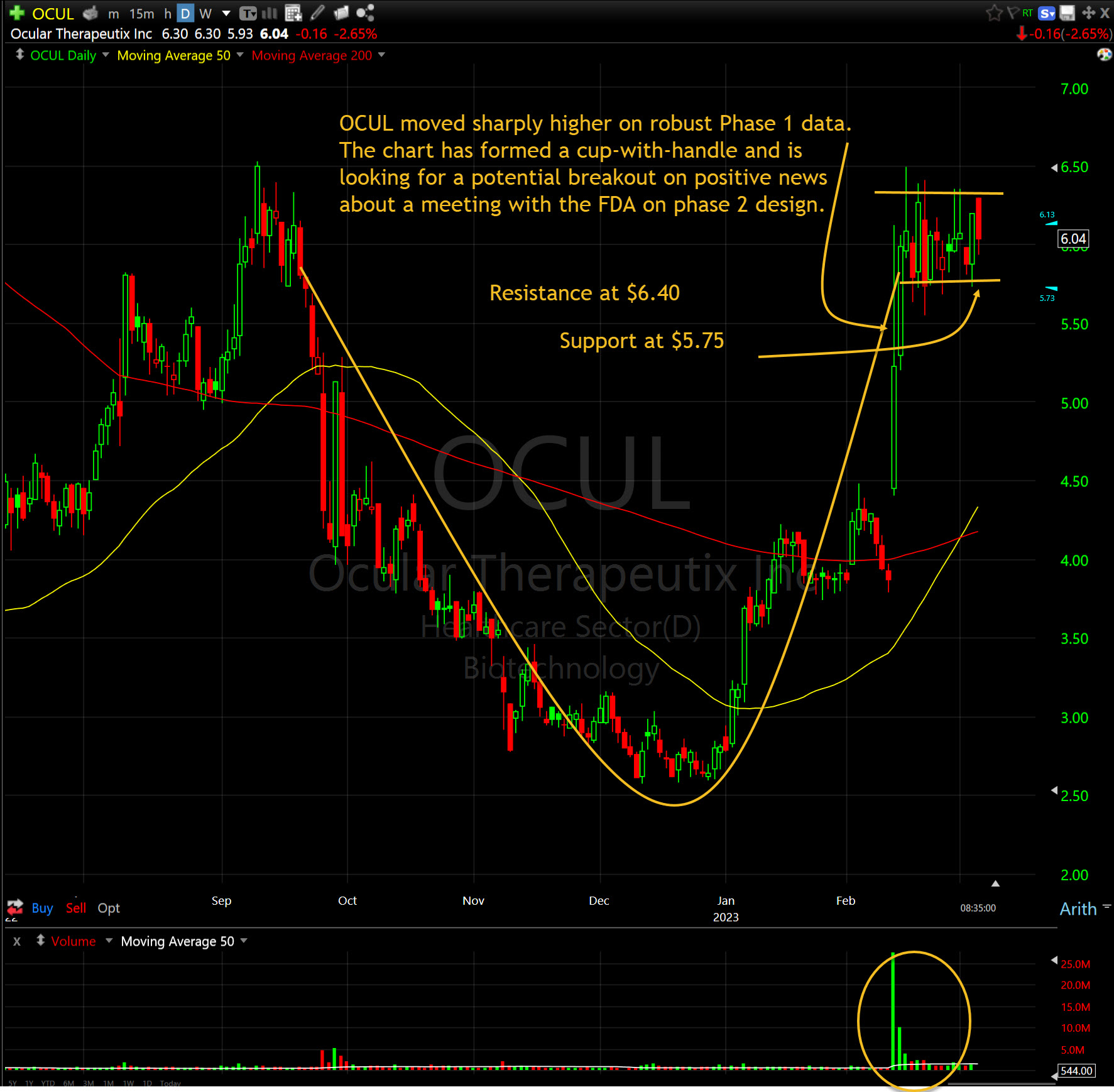 This post is for educational purposes only! This is not advice or a recommendation. We do not give investment advice. Do not act on this post. Do not buy, sell, or trade the stocks mentioned herein. We WILL actively trade this stock differently than discussed herein. We will sell into strength and buy or sell anytime for any reason. We will actively trade into any unusual activity. At the time of this post, principals, employees, and affiliates of Shark Investing, Inc. and/or principals, clients, employees, and affiliates of Hammerhead Financial Strategies, LLC, directly or indirectly, controlled investment and/or trading accounts containing positions in OCUL. To accommodate the objectives of these investing and/or trading accounts, the trading in these shares will be contrary to and/or inconsistent with the information contained in this posting.