Our Stock of the Week is NIO, Inc. (NIO). NIO designs, builds, and sells electric vehicles in China. It has moved into Norway and has offices in the US that it has recently expanded.
NIO offers BaaS or Battery as a Service. This allows a buyer to purchase a car without the batteries, which cost about $10,000, and subscribe to a service for $142 which provides them with fresh batteries. Batteries are swapped out as needed, and there is no high replacement cost in the future. Batteries can be swapped in a matter of minutes and is a much faster process than recharging, which can take 75 minutes
Nio is also aggressively expanding. It opened a division in Norway and has made its first shipment outside of China. It has further plans to expand in Europe. It is also building a new plant in China, which will double capacity to around 240,000 vehicles annually. Its office is in San Jose, California. Electrek stated that. "a long speculated entry into North America could be one step closer to becoming a reality."
EV sales are booming in China. Both Tesla and Ford have indicated strong sales. NIO delivered 9,652 vehicles in January, which was a 33.6% increase year-over-year.
There are ten analysts that follow NIO, nine have to buy recommendations, and one has a hold rating on the stock. The average price target is $62.08. which is 159% above the current price of around $28. The most recent reiteration was from Credit Suisse a week ago with a price target of $83.
NIO was hit in December on concerns that the SEC may limit US listing for some China names. Those fears have subsided to some degree, but the poor stock market has had the stock in a downtrend.
After hitting a low under $20 a little over a week ago, the stock has found some support around the low $22 area. We are looking for a move above recent highs at $24.84 to signal a resumption of momentum.
As always we are looking to aggressively trade the stock and would not chase a gap-up to start the week. We'd like to see a strong finish at the highs to indicate better momentum. The stock needs relative strength to attract more buyers.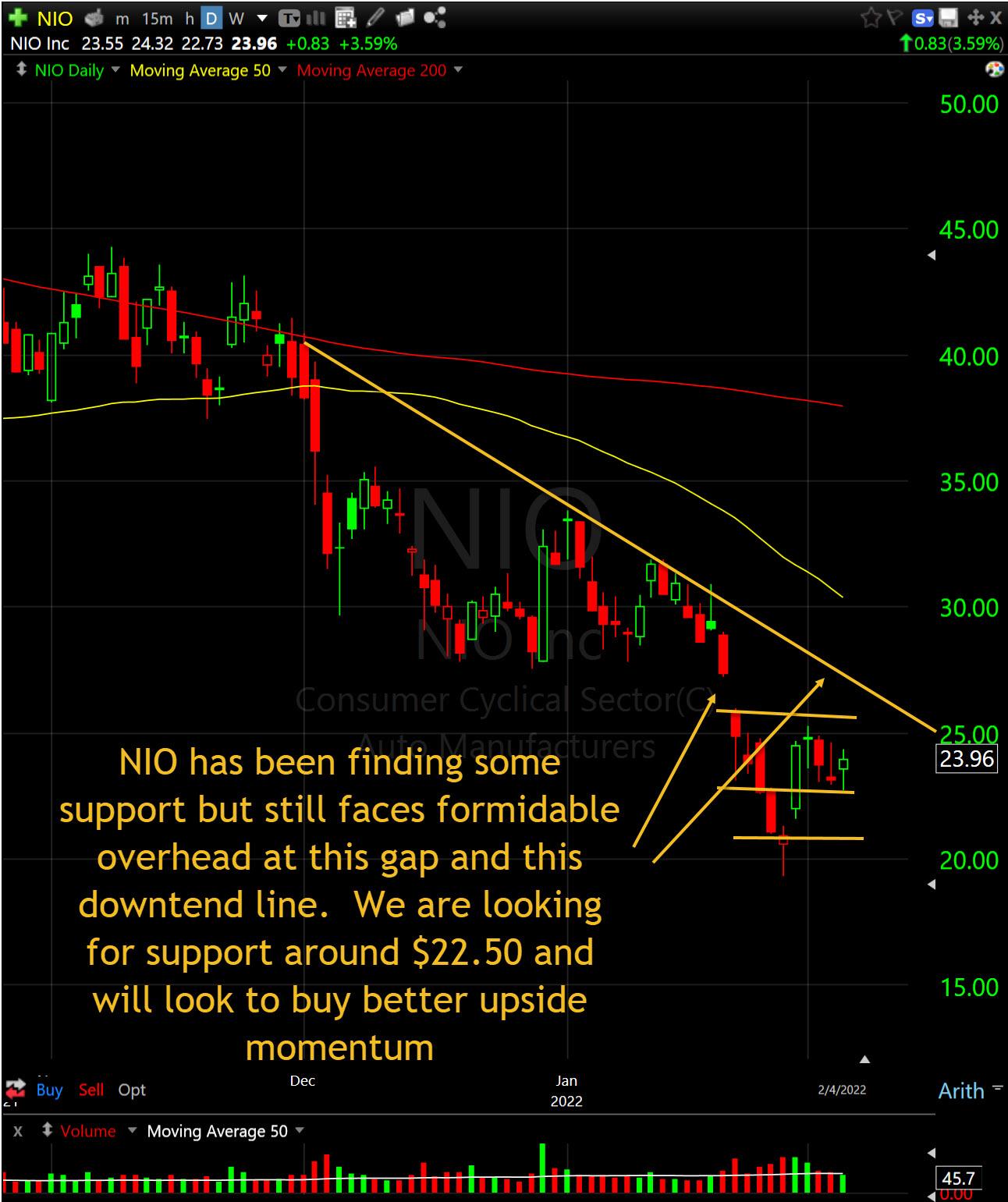 This post is for educational purposes only! This is not advice or a recommendation. We do not give investment advice. Do not act on this post. Do not buy, sell, or trade the stocks mentioned herein. We WILL actively trade this stock differently than discussed herein. We will sell into strength and will buy or sell at any time for any reason. We will actively trade into any unusual activity. At the time of this post, principals, employees, and affiliates of Shark Investing, Inc. and/or principals, clients, employees, and affiliates of Hammerhead Financial Strategies, LLC, directly or indirectly, controlled investment and/or trading accounts containing positions in NIO To accommodate the objectives of these investing and/or trading accounts, the trading in these shares will be contrary to and/or inconsistent with the information contained in this posting.