Our Stock of the Week is NIO, Inc. (NIO). NIO designs, manufactures, and sells electric vehicles in China. One of its key innovations is BaaS or Battery as a Service. This allows a buyer to purchase a car without the batteries, which cost about $10,000 and subscribe to a monthly service for a smaller monthly fee which provides them with fresh batteries. Batteries are swapped out as needed, and there is no high replacement cost in the future. Batteries can be swapped in a matter of minutes, and this is a much faster process than recharging, which can take 75 minutes.
Nio is also aggressively expanding. It opened a division in Norway and made its first shipment outside of China. It has further plans to expand in Europe. It is also building a new plant in China, which will double its capacity to around 240,000 vehicles annually. 
According to Deutsche Bank, NIO has two near-term catalysts that may move the stock. First is that the reopening of the economy in China should boost sales in December. The analyst fees that fourth-quarter guidance of 43,000 to 48,000 is achievable.
In addition, the company is holding its annual Nio Day later this month and should reveal two new vehicles. Also there should be an easing of audit standards for US-listed China names finalized soon, which should boost the stock.
The Deutsche Bank analyst has a $21 price target on the stock. Twelve analysts follow NIO with an average price target of $16.81.
Technically the stock is sitting at key support around its 50-day simple moving average. We are looking for a higher high on the daily chart to bring in bounce bounces and move the stock back to the $13 level. As always, we would not chase the open on Monday but will trade aggressively into volatility.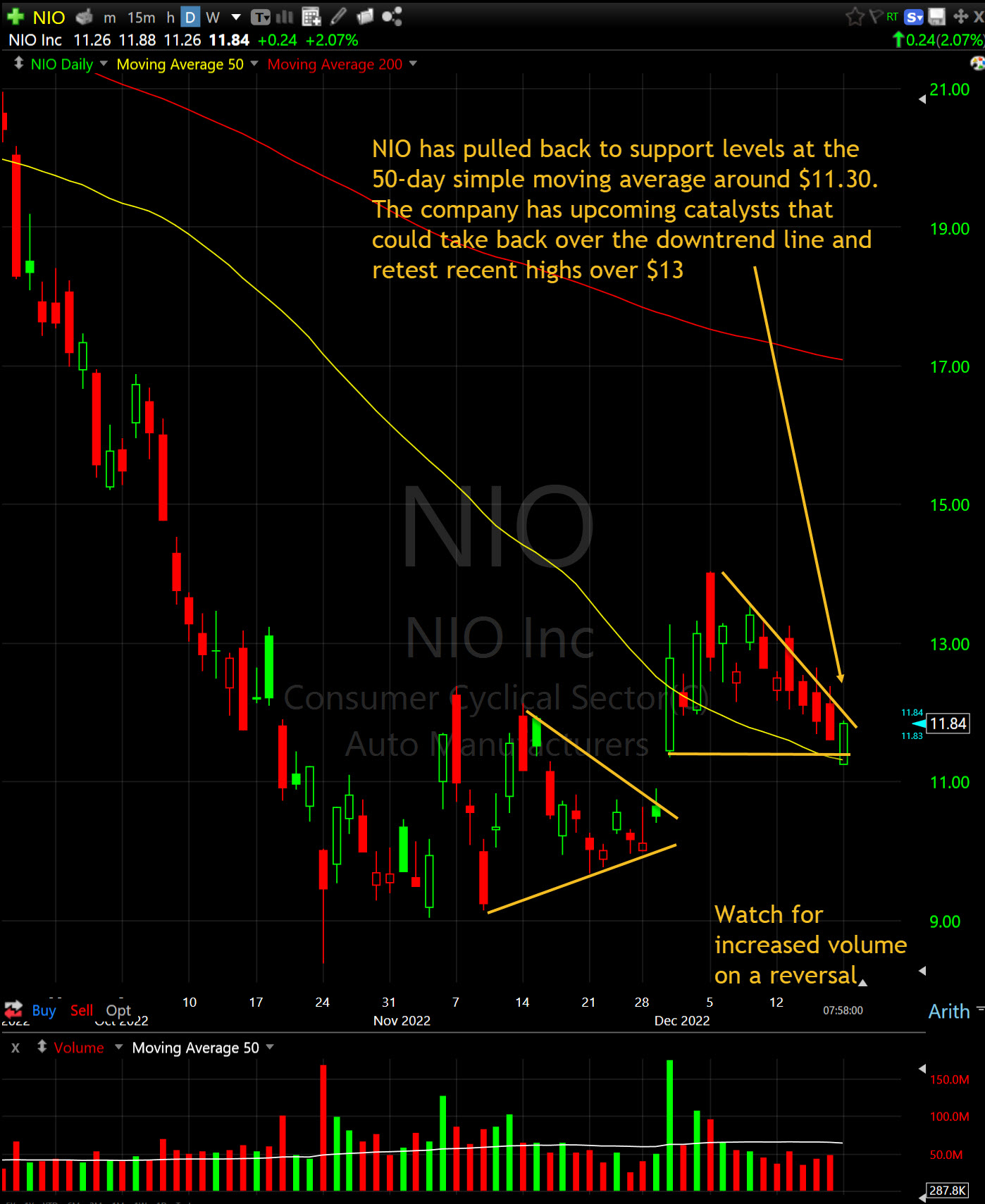 This post is for educational purposes only! This is not advice or a recommendation. We do not give investment advice. Do not act on this post. Do not buy, sell, or trade the stocks mentioned herein. We WILL actively trade this stock differently than discussed herein. We will sell into strength and will buy or sell at any time for any reason. We will actively trade into any unusual activity. At the time of this post, principals, employees, and affiliates of Shark Investing, Inc. and/or principals, clients, employees, and affiliates of Hammerhead Financial Strategies, LLC, directly or indirectly, controlled investment and/or trading accounts containing positions in NIO.  To accommodate the objectives of these investing and/or trading accounts, the trading in these shares will be contrary to and/or inconsistent with the information contained in this posting.