Our Stock of the Week is Netflix (NFLX). Netflix provides internet subscription services to watch TV shows. It has been one of the Magnificant Seven names that have driven the indices higher in 2023, but it sold off on its earnings report when it failed to convert a surge in new subscriptions into revenues. Netflix has changed its business model, and the market was disappointed that it is showing results as quickly as hoped. Expectations were high, and there was a selloff on the news.
Despite the negative response, analysts remain quite optimistic about the stock. There was not a single downgrade following the report, and every analyst reiterated his view of the market. There are 32 ratings with an average price target of $462. The high target is $600, and the low is $293.
Technically the stock is struggling to find support and still is at risk, down to about $411. Our game plan is to make some small buys and wait for indications that support is holding. The stock is down sharply three days in a row following earnings; that is often a point where support starts to occur.
As always, we would not chase the stock to start the week but will very slowly start to accumulate and wait for conditions to develop.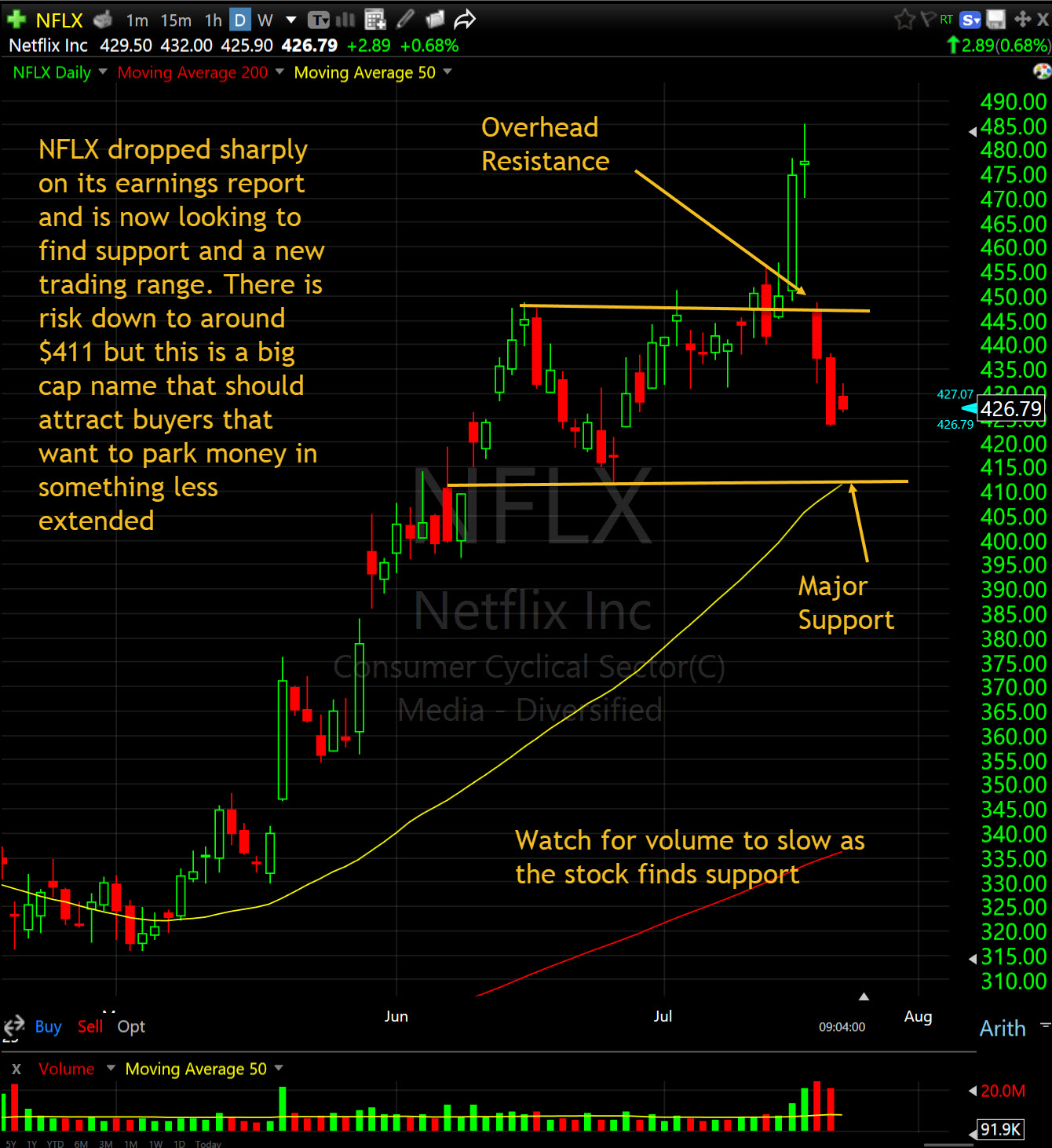 This post is for educational purposes only! This is not advice or a recommendation. We do not give investment advice. Do not act on this post. Do not buy, sell, or trade the stocks mentioned herein. We WILL actively trade this stock differently than discussed herein. We will sell into strength and buy or sell anytime for any reason. We will actively trade into any unusual activity. At the time of this post, principals, employees, and affiliates of Shark Investing, Inc. and/or principals, clients, employees, and affiliates of Hammerhead Financial Strategies, LLC, directly or indirectly, controlled investment and/or trading accounts containing positions in NFLX.. To accommodate the objectives of these investing and/or trading accounts, the trading in these shares will be contrary to and/or inconsistent with the information contained in this posting.