Our Stock of the Week is LianBio (LIAN). LIAN has a unique niche in biotechnology. It partners with developmental biotechnology companies focusing on bringing drugs to China and major Asian markets. These partnerships with other biotech/pharma companies cut the risk to LIAN. China is the second-largest pharmaceutical market in the world at around $220 billion per year, after the U.S.
Some of the partnerships that Lian is working on are our Mavacamten which is partnered with Bristol Myers Squibb. The Chinese equivalent of the FDA accepted Mavacamten for priority review. An FDA decision in the U.S. is due in June for the expanded use of Mavacamten. The drug should go to market next year in China.
Infigratinib is a first-line therapy in advanced cholangiocarcinoma with FGFR2 fusions. It is partnered with Bridgebio. Omilancor in inflammatory bowel disease and NX-13 in ulcerative colitis are partnered with Landos Biopharma. TP-03 in Demodex Blepharitis partnered with Tarsus.
Biotechnology hedge fund Perceptive Advisors own 53% of LIAN. They are heavily invested in its success and appear to be able to find the right partnerships that will work in China.
Technically, the stock has been consolidating following a bounce to start the year. Volume has increased recently. We expect a positive market reaction to the FDA on Mavacamten in the next six weeks.
As always, we will not chase the stock on Monday but will look to aggressively trade it into volatility.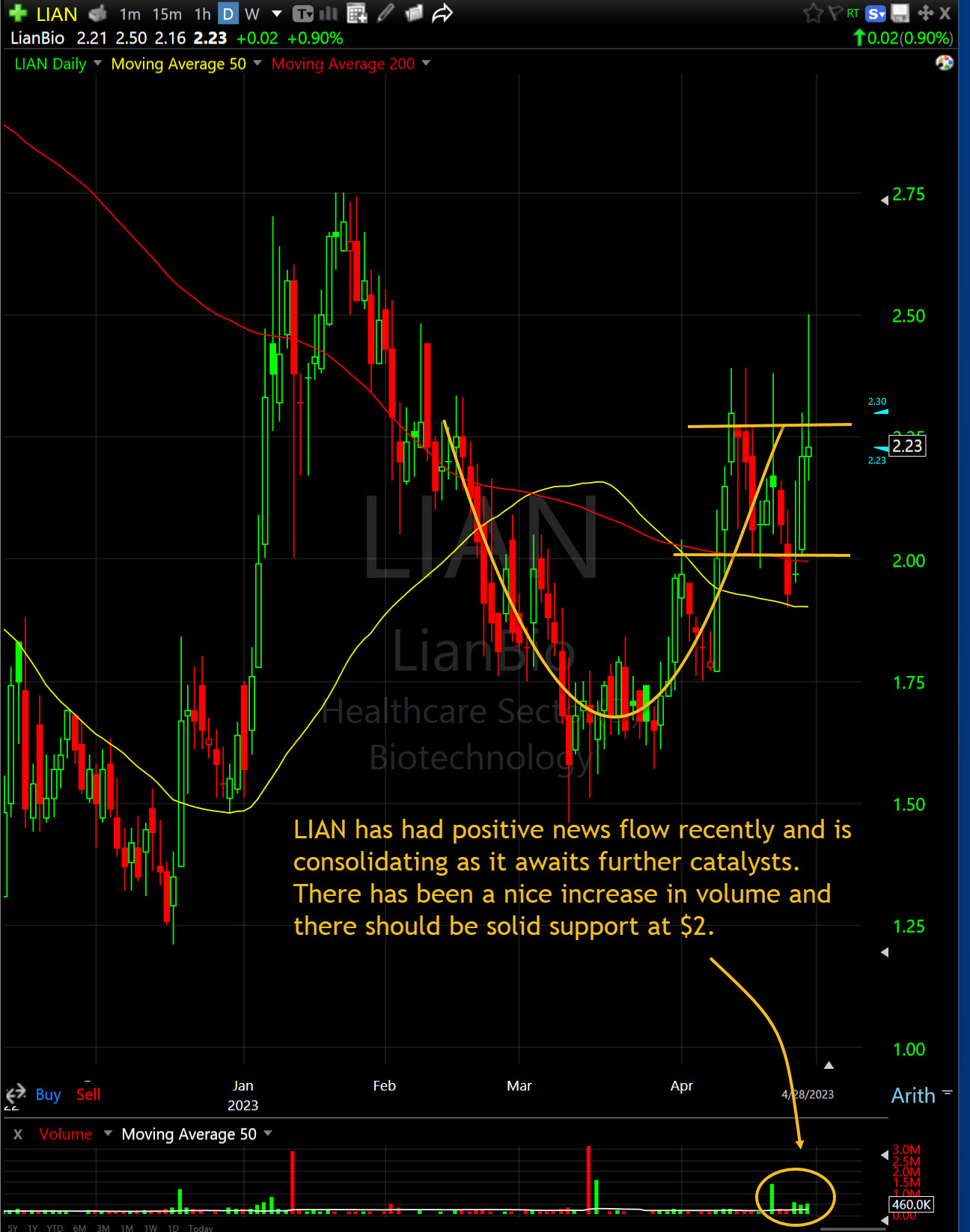 This post is for educational purposes only! This is not advice or a recommendation. We do not give investment advice. Do not act on this post. Do not buy, sell, or trade the stocks mentioned herein. We WILL actively trade this stock differently than discussed herein. We will sell into strength and buy or sell anytime for any reason. We will actively trade into any unusual activity. At the time of this post, principals, employees, and affiliates of Shark Investing, Inc. and/or principals, clients, employees, and affiliates of Hammerhead Financial Strategies, LLC, directly or indirectly, controlled investment and/or trading accounts containing positions in LIAN. To accommodate the objectives of these investing and/or trading accounts, the trading in these shares will be contrary to and/or inconsistent with the information contained in this posting.