Our Stock of the Week is Innodata Isogen, Inc (INOD). The company provides outsourced data engineering services and software to companies worldwide. This includes data collection, data annotation, applied AI, AI data marketplace, and risk intelligence.
The most interesting niche that INOD fills is that it provides data that is used to train virtual assistants and chatbots. This area is exploding, but there is no clear data yet to show how INOD will benefit.
Recently the company was selected by a 'leading cloud infrastructure and platform services company' to provide large-scale data collection for a new artificial intelligence initiative.
There is no analyst coverage of INOD and no earnings estimates at this time, but this stock benefits whenever the AI buzz picks up.
Technically it is extended here, but we are looking for a pullback to support it as a potential entry. As always, we will not chase strength on Monday morning but will look to aggressive trade into volatility.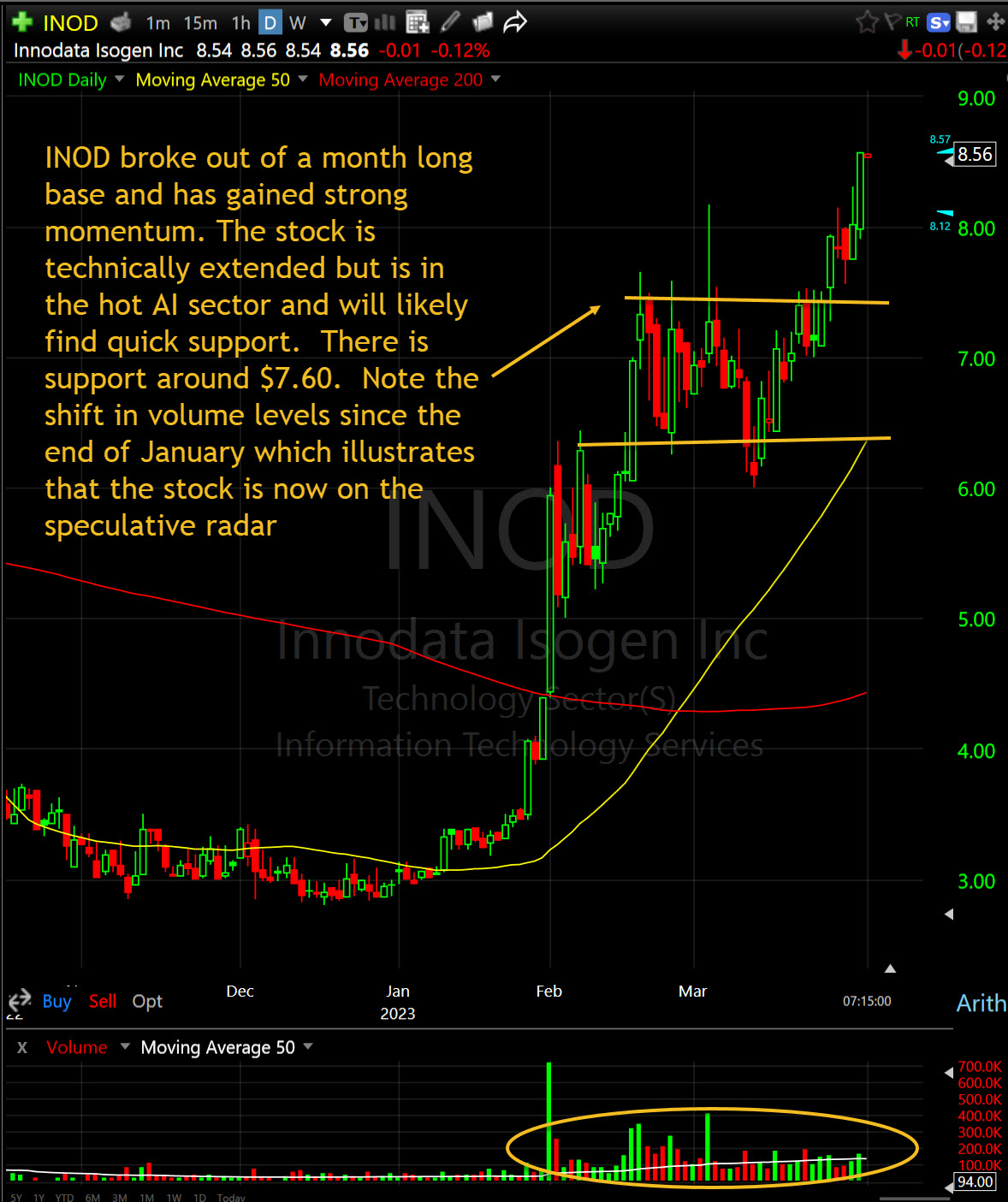 This post is for educational purposes only! This is not advice or a recommendation. We do not give investment advice. Do not act on this post. Do not buy, sell, or trade the stocks mentioned herein. We WILL actively trade this stock differently than discussed herein. We will sell into strength and buy or sell anytime for any reason. We will actively trade into any unusual activity. At the time of this post, principals, employees, and affiliates of Shark Investing, Inc. and/or principals, clients, employees, and affiliates of Hammerhead Financial Strategies, LLC, directly or indirectly, controlled investment and/or trading accounts containing positions in INOD  To accommodate the objectives of these investing and/or trading accounts, the trading in these shares will be contrary to and/or inconsistent with the information contained in this posting.