Our Stock of the Week is Humacyte, Inc. (HUMA). Humacyte, Inc. engages in the development and manufacture of off-the-shelf, implantable, and bioengineered human tissues for the treatment of diseases and conditions across a range of anatomic locations in multiple therapeutic areas. The company uses its proprietary and scientific technology platform to engineer and manufacture human acellular vessels (HAVs). Its investigational HAVs are designed to be easily implanted into any patient without inducing a foreign body response or leading to immune rejection. The company is developing a portfolio of HAVs, which would target the vascular repair, reconstruction, and replacement market, including vascular trauma; arteriovenous access for hemodialysis; peripheral arterial disease; and coronary artery bypass grafting, as well as developing its HAVs for pediatric heart surgery and cellular therapy delivery, including pancreatic islet cell transplantation to treat Type 1 diabetes.
The company reported earnings on Monday, August 14. EPS is in line, but what is most notable is that it anticipates a number of positive events in the next few months. The CEO states: "Notable, we are excited that enrollment in the V005 trial in vascular trauma repair is now complete, and activities to report results are underway. We remain on track to report topline clinical trial outcomes in the third quarter of 2023, followed by a planned Biologics License Application filing for the vascular trauma indication with the U.S. Food and Drug Administration in the fourth quarter of 2023.
We are also proud that our humanitarian efforts in Ukraine have resulted in successful outcomes to date, saving lives and limbs in a wartime setting. Finally, we are pleased that the potential of the HAV to resist infection was featured in a recent publication in the Journal of Vascular Surgery – Vascular Science, adding to the growing body of literature supporting HAV use in multiple indications. We look forward to building our momentum throughout the second half of 2023 as we advance toward the expected regulatory submission in our first indication."
The stock came under pressure earlier this year due in part to selling by Brady Dougan, who is the husband of the CEO. Mr. Dougan is an investment banker that ran into substantial liquidity issues in his institutional finance company. The selling didn't appear to have anything to do with the prospects of HUMA but weighed on the stock.
We are looking for positive data to be announced soon and believe that there is good nearby support. As always, we will not chase strength to start the week but will look to aggressively trade the stock as it develops further.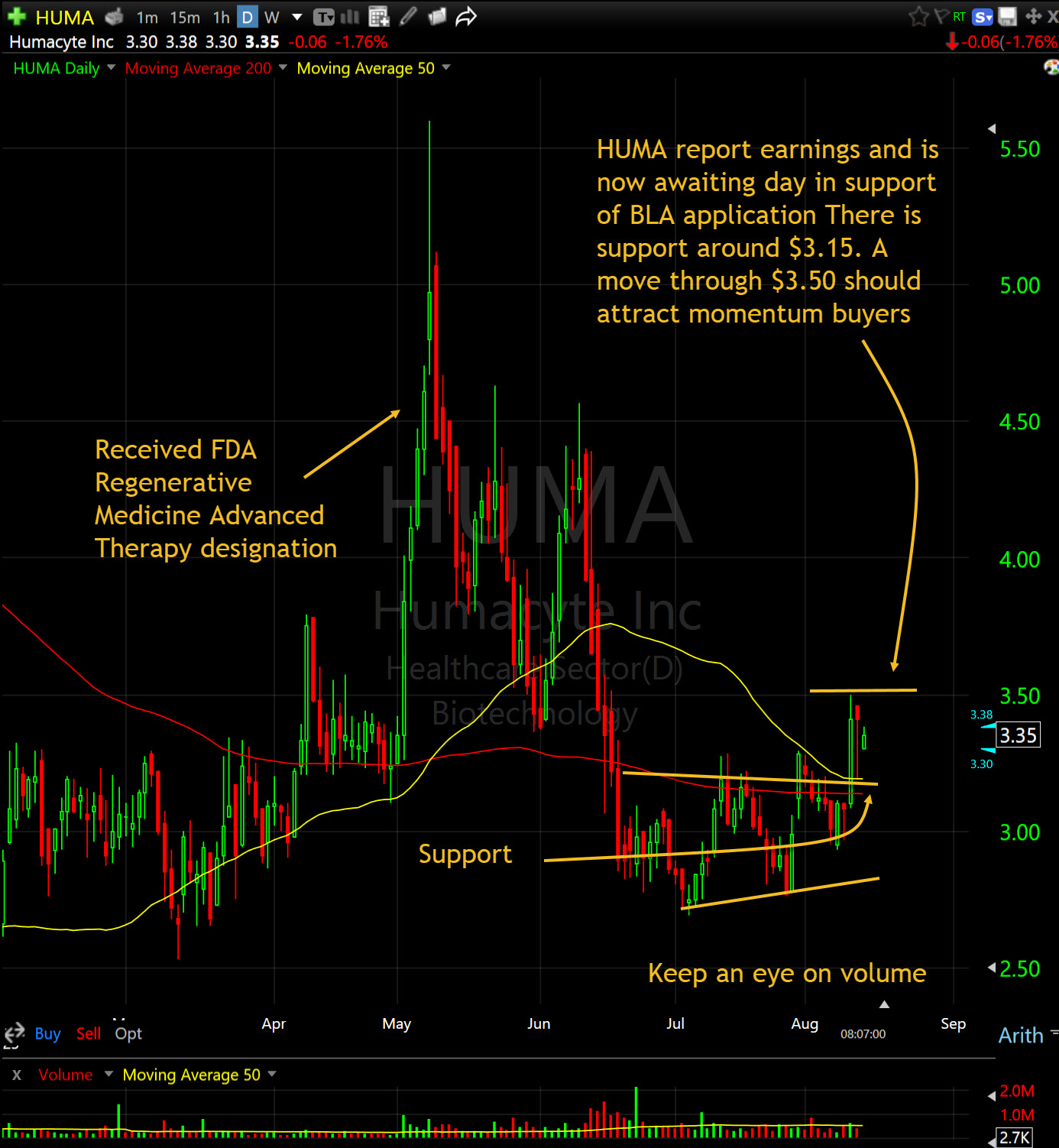 This post is for educational purposes only! This is not advice or a recommendation. We do not give investment advice. Do not act on this post. Do not buy, sell, or trade the stocks mentioned herein. We WILL actively trade this stock differently than discussed herein. We will sell into strength and buy or sell anytime for any reason. We will actively trade into any unusual activity. At the time of this post, principals, employees, and affiliates of Shark Investing, Inc. and/or principals, clients, employees, and affiliates of Hammerhead Financial Strategies, LLC, directly or indirectly, controlled investment and/or trading accounts containing no positions in HUMA. To accommodate the objectives of these investing and/or trading accounts, the trading in these shares will be contrary to and/or inconsistent with the information contained in this posting.