Our Stock of the Week is Hims & Hers Health, Inc. (HIMS). HIMS operates a telehealth platform that connects consumers to licensed healthcare professionals. The company offers a range of health and wellness products and services available on its websites and mobile application. It also provides prescription medication on a recurring basis and ongoing care from healthcare providers; and over-the-counter drug and device products, cosmetics, and supplement products, primarily focusing on wellness, sexual health and wellness, skincare, and hair care. The company's curated non-prescription products include vitamin C, melatonin, biotin, and collagen protein supplements in the wellness category; moisturizers, serums, and face wash in the skincare category; condoms, climax delay spray and wipes; vibrators, and lubricants in the sexual health and wellness category; and shampoos, conditioners, scalp scrubs, and topical treatments, such as minoxidil in the hair care category. In addition, it offers medical consultation services, as well as health and wellness products, through wholesale partners.
The company is growing very rapidly. In its most recent quarter, revenues jumped 97%, and it increased revenue guidance for the March quarter from $175m to $180M. The company has now surpassed one million subscribers. The CEO commented on the strong operational momentum for the year ahead.
A number of analysts raised their forecasts after the report, and there is now an average target price of $11.95, with a high forecast of $15 and a low of $8.
It is a very tough market for small caps right now, and we are looking to take advantage of pullbacks into the next earnings report, which is not due until May 8.
Technically the stock is consolidated after coming out of a cup-and-handle and has support down to $8.75, which would fill a gap on the chart. As always, we would not chase strength on Monday but look to aggressively trade into volatility.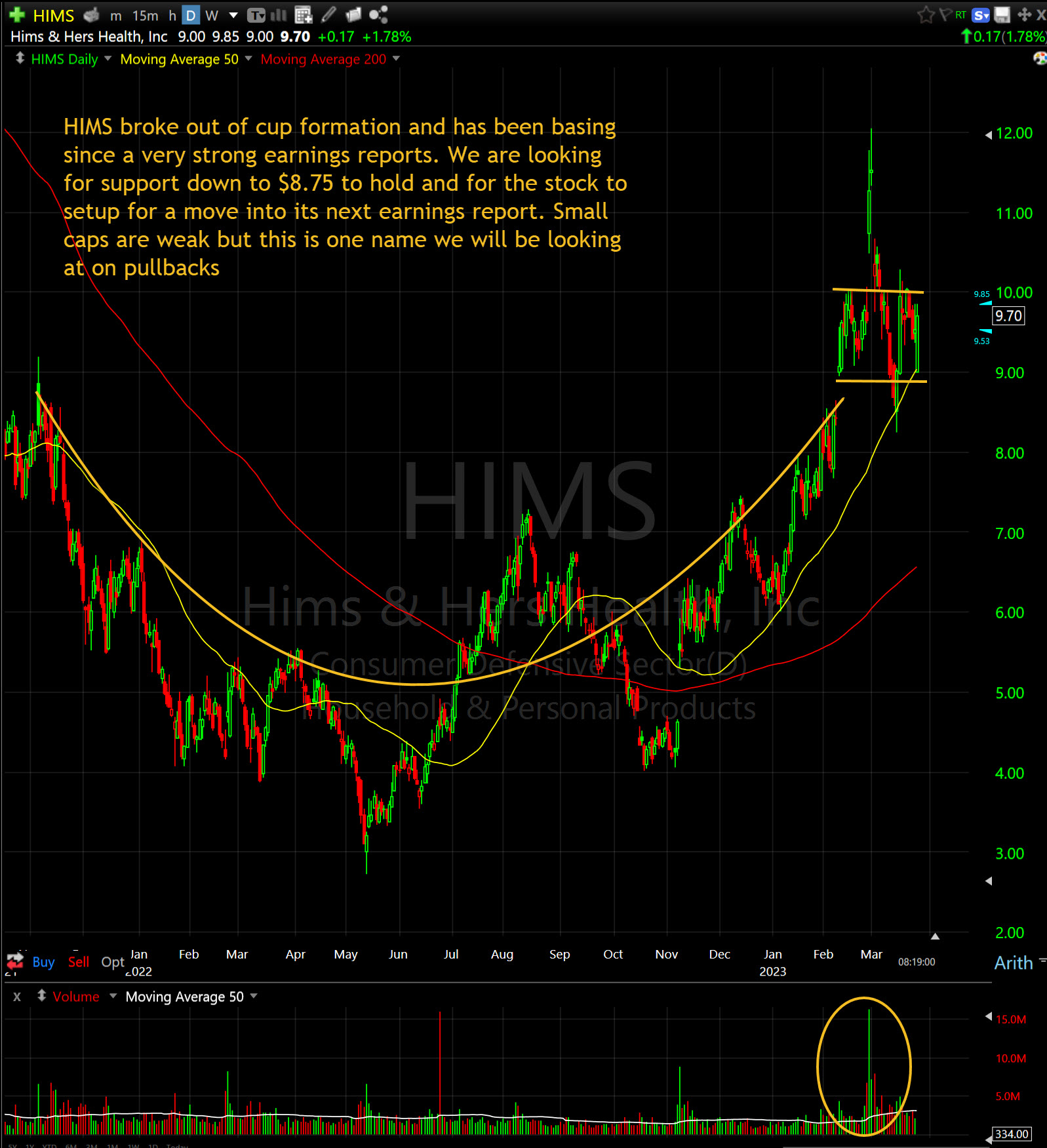 This post is for educational purposes only! This is not advice or a recommendation. We do not give investment advice. Do not act on this post. Do not buy, sell, or trade the stocks mentioned herein. We WILL actively trade this stock differently than discussed herein. We will sell into strength and buy or sell anytime for any reason. We will actively trade into any unusual activity. At the time of this post, principals, employees, and affiliates of Shark Investing, Inc. and/or principals, clients, employees, and affiliates of Hammerhead Financial Strategies, LLC, directly or indirectly, controlled investment and/or trading accounts containing positions in HIMS.  To accommodate the objectives of these investing and/or trading accounts, the trading in these shares will be contrary to and/or inconsistent with the information contained in this posting.