Our Stock of the Week is Gambling.com Group Ltd. (GAMB). GAMB is a media and a performance marketing company focused on the gambling industry. GAMB publishes informational portals that offer comparisons and reviews of regulated online gambling websites worldwide. It is a media company and does not offer actual gambling services but helps online sportsbooks and casino operators acquire players. GAMB is paid when it performs by delivering new betting customers to various betting sites.
The sports betting and gambling industry is becoming increasingly competitive, but it is estimated that online gambling will grow from around $105 billion currently to $213 billion within the next five years. Companies like Draftkings, Inc. (DKNG) will have to compete heavily, while GAMB has more leverage to overall growth in the gambling market.
GAMB issued a very strong second-quarter earnings report on August 17. North American revenues rose 115%, and overall revenues rose 63%. The company is anticipating additional growth as states like North Carolina and Kentucky come online for sports betting. It also uses its business model internationally.
Current estimates for 2023 and 2024 are $0.54 and $0.88, respectively, which reflects growth of 63%. The current trailing PE is 55. Eight analysts are following the stock, and they all have buy ratings with targets from $13 to $18. The average is $16.
Technically, the stock is slightly extended short term following the very strong earnings report, but it is forming a very long-term cup-with-handle pattern with a pivot point around $15.
As always, we will not chase strength on Monday morning but will look to trade aggressively into volatility. The stock may need more time for a handle to develop, but it has excellent relative strength and will see increased activity with the start of football season.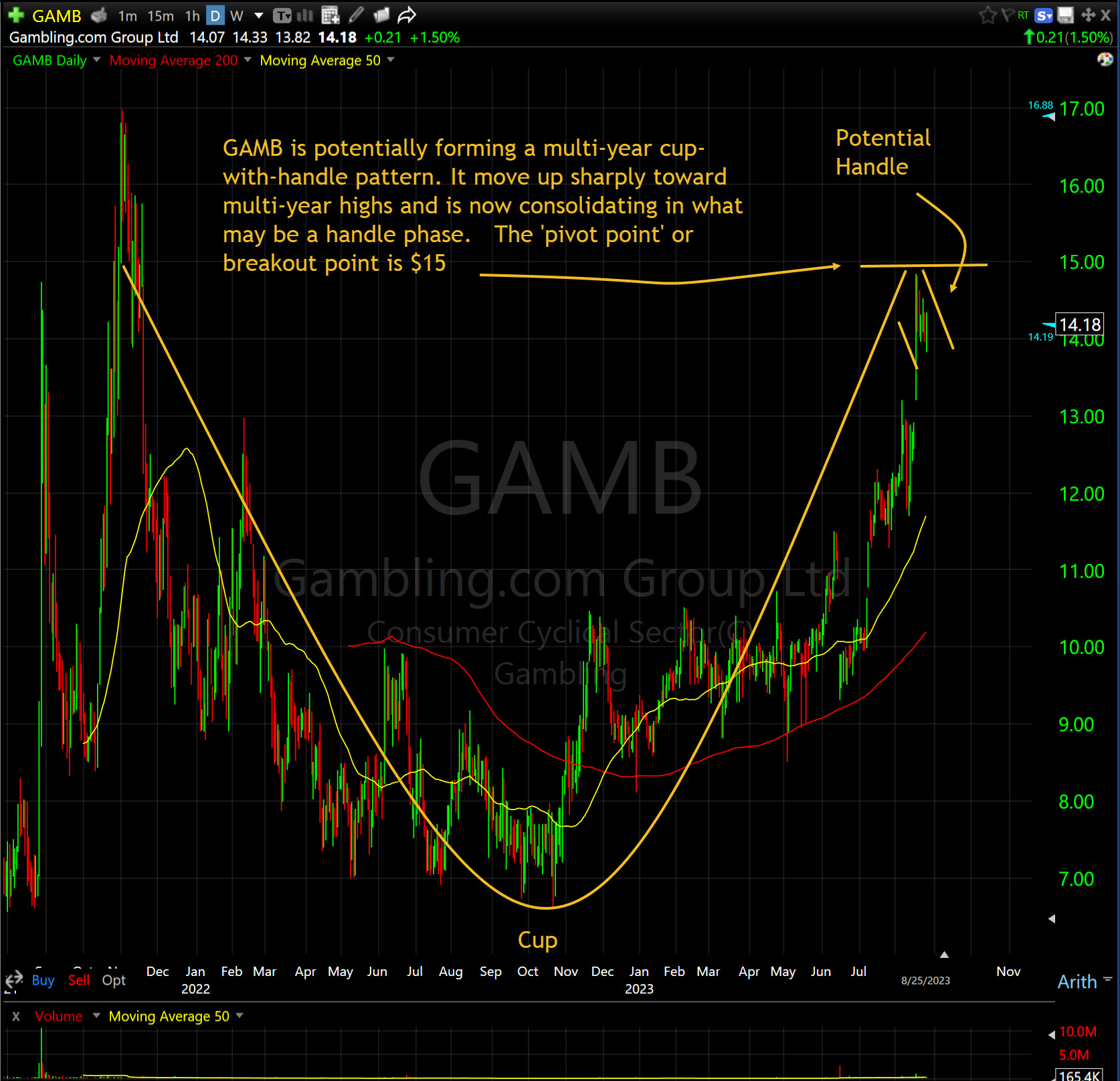 This post is for educational purposes only! This is not advice or a recommendation. We do not give investment advice. Do not act on this post. Do not buy, sell, or trade the stocks mentioned herein. We WILL actively trade this stock differently than discussed herein. We will sell into strength and buy or sell anytime for any reason. We will actively trade into any unusual activity. At the time of this post, principals, employees, and affiliates of Shark Investing, Inc. and/or principals, clients, employees, and affiliates of Hammerhead Financial Strategies, LLC, directly or indirectly, controlled investment and/or trading accounts containing positions in GAMB. To accommodate the objectives of these investing and/or trading accounts, the trading in these shares will be contrary to and/or inconsistent with the information contained in this posting.