Our Stock of the week is Enthusiast Gaming Holdings Inc. (EGLX). EGLX primarily derives its income from advertising directed at Generation Z. It is one of the few pure plays targeting that demographic. Recent clients include Coca-Cola and Toyota. Currently, it is presenting marketing for the new Top Gun movie due this summer.
The company offers media, content, entertainment, and esports businesses and operates an online network of approximately 100 gaming-related websites. It owns and operates Enthusiast Gaming Live Expo, a video-gaming expo, provides management and support services to players involved in professional gaming, and owns and manages esports teams, which cover games comprising Call of Duty, Madden NFL, Fortnite, Overwatch, Super Smash Bros., Rocket League, and Valorant; and produces and programs approximately 30 weekly shows across AVOD and OTT channels, and represents approximately 500 gaming influencers in YouTube and Twitch. It also operates Luminosity Gaming, an eSports franchise, and hosts other gaming events. The company is headquartered in Toronto, Canada.
On April 27, the company announced that it had surpassed one billion in monthly views in the US, which is an increase of 44% over March 2021.
The stock moved higher on first-quarter earnings revenue growth of 57%, which is typically its weakest quarter of the year. EGLX has improved margins every quarter and is about to turn EBITDA positive.
The company has strong operational momentum, but like many small-cap names, it has been under tremendous pressure for a very long time. It bounced on earnings, and the recent lows should serve as very strong technical support even if overall market conditions remain difficult.
Analysts at HC Wainwright and RBC Capital reiterated their buy ratings after the recent earnings report and set price targets of $6.25.
As always, we would not chase the stock on Monday morning but will look to aggressively trade it as it develops from here. There is a gap on the chart, which will be a support level if filled. The valuation is very strong, but the price action needs to improve. The first step is finding support.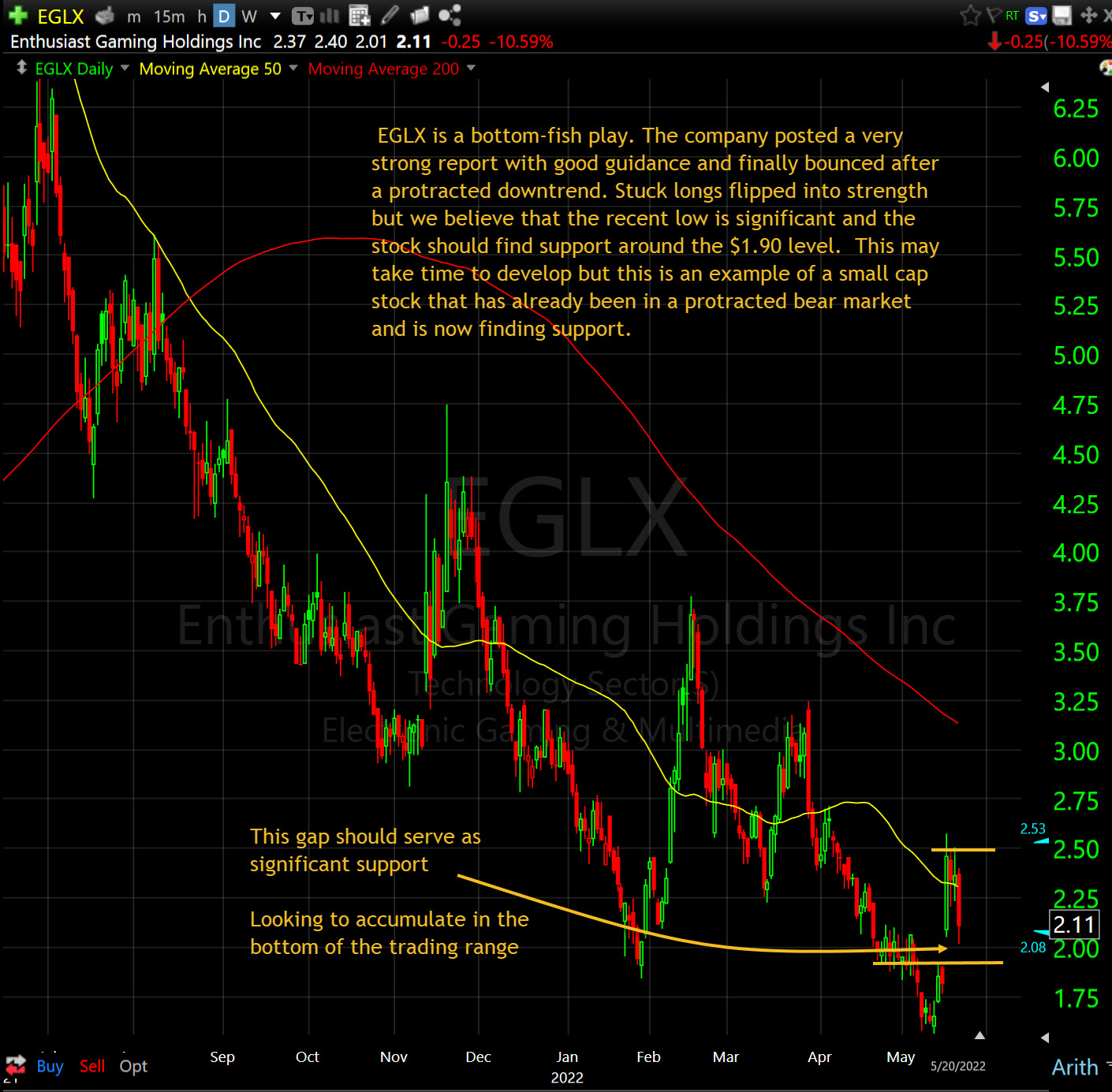 This post is for educational purposes only! This is not advice or a recommendation. We do not give investment advice. Do not act on this post. Do not buy, sell, or trade the stocks mentioned herein. We WILL actively trade this stock differently than discussed herein. We will sell into strength and will buy or sell at any time for any reason. We will actively trade into any unusual activity. At the time of this post, principals, employees, and affiliates of Shark Investing, Inc. and/or principals, clients, employees, and affiliates of Hammerhead Financial Strategies, LLC, directly or indirectly, controlled investment and/or trading accounts containing positions in EGLX To accommodate the objectives of these investing and/or trading accounts, the trading in these shares will be contrary to and/or inconsistent with the information contained in this posting.