Our Stock of the Week is Emergent BioSolutions, Inc (EBS). EBS focuses on products to prepare for and respond to accidental, deliberate, and naturally occurring public health threats (PHTs) in the United States. Its products include chemical, biological, radiological, nuclear, and explosives; emerging infectious diseases; travel health; public health crises; and acute, emergency, and community care. The company offers smallpox vaccines, inhalational for anthrax, and others.
The company produces Narcan, a nasal spray for the emergency treatment of known or suspected opioid overdose. The drug's patent has expired, and the FDA recently approved an OTC version. Other companies may produce a generic version, but EBS has at least a six-month lead time and also has the benefit of an existing sales channel for the product.
On April 10, Benchmark upgraded the stock to buy from hold and set a $22 target based on the launch of the OTC version of Narcan this summer.
Technically the stock has bounced off its lows and started to generate some positive momentum on the FDA approval of OTC Narcan. The stock moved through its 50-day simple moving average on the Benchmark upgrade and is now pulling back to support.
As always, we will not chase the stock on Monday morning but will look to aggressively trade it as it develops.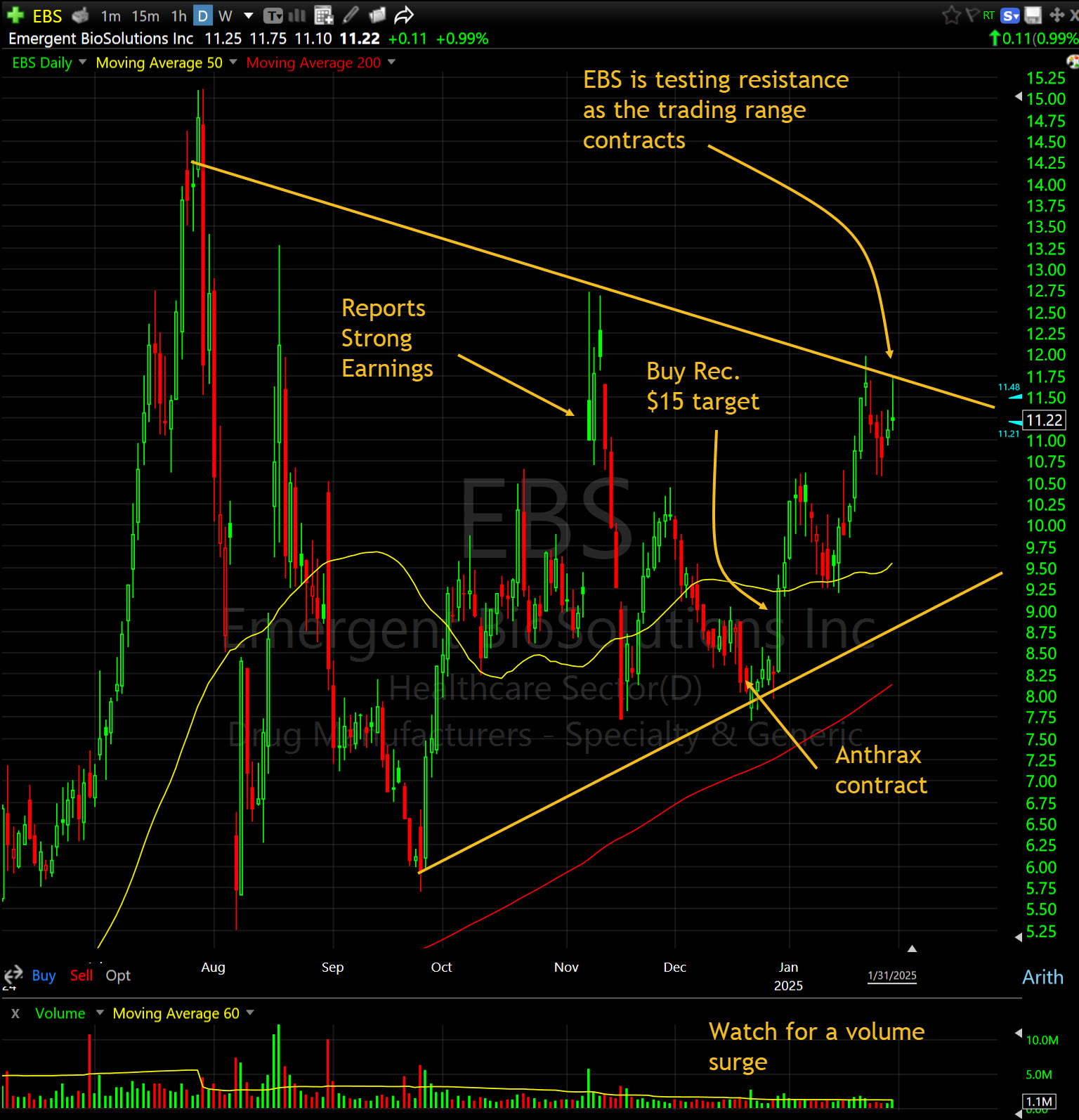 This post is for educational purposes only! This is not advice or a recommendation. We do not give investment advice. Do not act on this post. Do not buy, sell, or trade the stocks mentioned herein. We WILL actively trade this stock differently than discussed herein. We will sell into strength and buy or sell anytime for any reason. We will actively trade into any unusual activity. At the time of this post, principals, employees, and affiliates of Shark Investing, Inc. and/or principals, clients, employees, and affiliates of Hammerhead Financial Strategies, LLC, directly or indirectly, controlled investment and/or trading accounts containing positions in EBS To accommodate the objectives of these investing and/or trading accounts, the trading in these shares will be contrary to and/or inconsistent with the information contained in this posting.