Our Stock of the Week is Dole PLC (DOLE). DOLE is a global leader in fresh produce. It grows, markets, and distributes a variety of fresh produce around the world.
The stock has been a solid performer for a while and even pays a 2.8% dividend. Last week the company announced a significant deal that should take it to a new level.
On January 31, the company announced that it is selling its Fresh Vegetable Division to a subsidiary of Chiquita Holdings for $293 million in cash. The division has been losing money, and without this overhang, there should be a significant surge in EBITDA. In addition, the company will also reduce debt. This move should be highly accretive as it will both boost earnings and reduce the carrying cost of debt.
Deutsche Bank increased its price target to $17 for the stock following the news. Goldman Sachs also covers the stock but has not yet updated its current target of $16. At the current price, these targets offer about a 40% return
Technically the stock gapped higher on the news and is now sitting in a trading range. We are looking to accumulate additional shares as it bounces around as the market figures out the value here. The quarterly dividend of $0.08 is a nice kicker as well.
The company does not expect to announce earnings until March 14, but we expect to see forward guidance increase at that time and expect to see accumulation before the news.
As always, we would not chase the stock but will look to take advantage of volatility.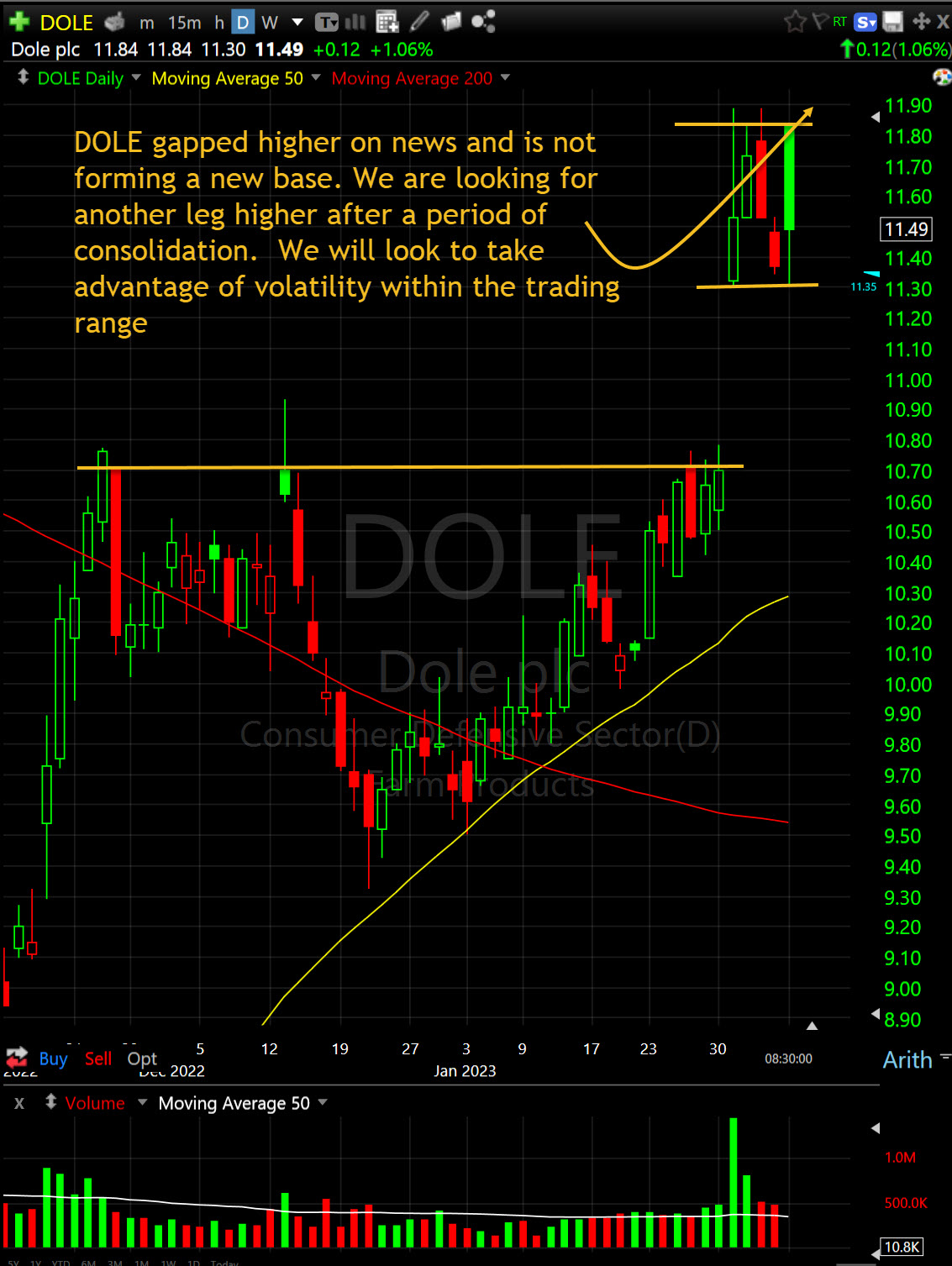 This post is for educational purposes only! This is not advice or a recommendation. We do not give investment advice. Do not act on this post. Do not buy, sell, or trade the stocks mentioned herein. We WILL actively trade this stock differently than discussed herein. We will sell into strength and will buy or sell at any time for any reason. We will actively trade into any unusual activity. At the time of this post, principals, employees, and affiliates of Shark Investing, Inc. and/or principals, clients, employees, and affiliates of Hammerhead Financial Strategies, LLC, directly or indirectly, controlled investment and/or trading accounts containing positions in DOLE
To accommodate the objectives of these investing and/or trading accounts, the trading in these shares will be contrary to and/or inconsistent with the information contained in this posting.