Our Stock of the Week is dMY Technology Group Inv V (DMYQ), is a SPAC that is set to close its merger agreement with Planet Labs, Inc (PL) on December 7. The symbol will be changed at the opening of trading on Wednesday, December 8.
Planet (PL) is a leading provider of global, daily satellite imagery and geospatial solutions. Planet creates satellite images of the world every day and makes change visible, accessible, and actionable. Founded in 2010 by three NASA scientists, Planet designs, builds, and operates the largest Earth observation fleet of imaging satellites, capturing and compiling data from over 3 million images per day. Planet provides mission-critical data, advanced insights, and software solutions to over 700 customers, comprising the world's leading agriculture, forestry, intelligence, education, finance companies, and government agencies, enabling users to simply and effectively derive unique value from satellite imagery.
The CEO of Planet has said, "Google indexed what's on the internet and made it searchable. Now Planet is indexing what's on the Earth and making it searchable."
DMYQ and PL are backed by a stellar group, including the DMY team, which has had great success with IONQ quantum computing. Google, BlackRock, Koch, and Marc Benioff are some of the PIPE buyers.
The primary issue with this trade is the volatility created when a SPAC merges and goes through the deSPAC process and symbol change. For example, IONQ dropped almost 30% from its $10 redemption price before exploding to over $35.
Market conditions are different now, and Plant Lab is a very different company but the long-term prospects coupled with the solid backing suggestions that the potential is very good in the years ahead.
Our trading plan is to hold some shares into the symbol change on Wednesday but to look for opportunities on subsequent weaknesses.  As always, we will not chase strength on Monday morning but will be aggressively trading into volatility.
We expect this stock to be volatile, and there is very high risk associated with the symbol change as some brokers do not handle these changes well and can cause an inability to trade the stock.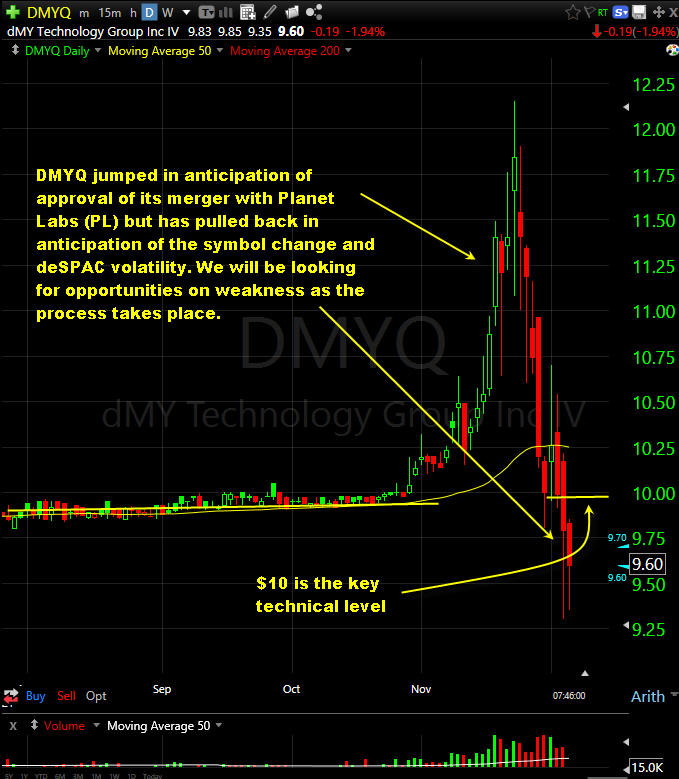 This post is for educational purposes only! This is not advice or a recommendation. We do not give investment advice. Do not act on this post. Do not buy, sell, or trade the stocks mentioned herein. We WILL actively trade this stock differently than discussed herein. We will sell into strength and will buy or sell at any time for any reason. We will actively trade into any unusual activity. At the time of this post, principals, employees, and affiliates of Shark Investing, Inc. and/or principals, clients, employees, and affiliates of Hammerhead Financial Strategies, LLC, directly or indirectly, controlled investment and/or trading accounts containing positions in DMYQ. To accommodate the objectives of these investing and/or trading accounts, the trading in these shares will be contrary to and/or inconsistent with the information contained in this posting.