Our Stock of the Week is Calumet Specialty Products Partners (CLMT). The Calumet Montana oil refinery in Great Falls has completed a multi-million dollar expansion project it began more than a year ago and is now poised to become the largest producer of sustainable aviation fuel in the United States, if not the world.  The company is advancing through the Department of Energy loan process, which could improve its balance sheet. The company presents a unique way to play US biofuels with potential upside as it moves into the proving-out phase.
In its most recent quarter, the company reported revenue of $1.04 billion versus consensus estimates of $927 million. It also reported eps of $0.35 versus estimates of $0.07. The company is expected to earn $0.96 in 2023 and double that to $1.95 in 2024.
Technically the stock has solid support at $16 and is looking to move out of a trading range over $18. The potential DOE loan agreement should be a near-term catalyst as the demand for sustainable jet fuel pushes the process.
TD Cown raised the firm's price target to $23 and $21 and maintained an outperform rating on the stock. Wainwright reiterated its $25 target on the stock following earnings.
As always, we will not look to chase strength on Monday morning but will look to aggressively trade into volatility. CLMT trades fairly thin and may have a wide spread at times which presents an additional challenge.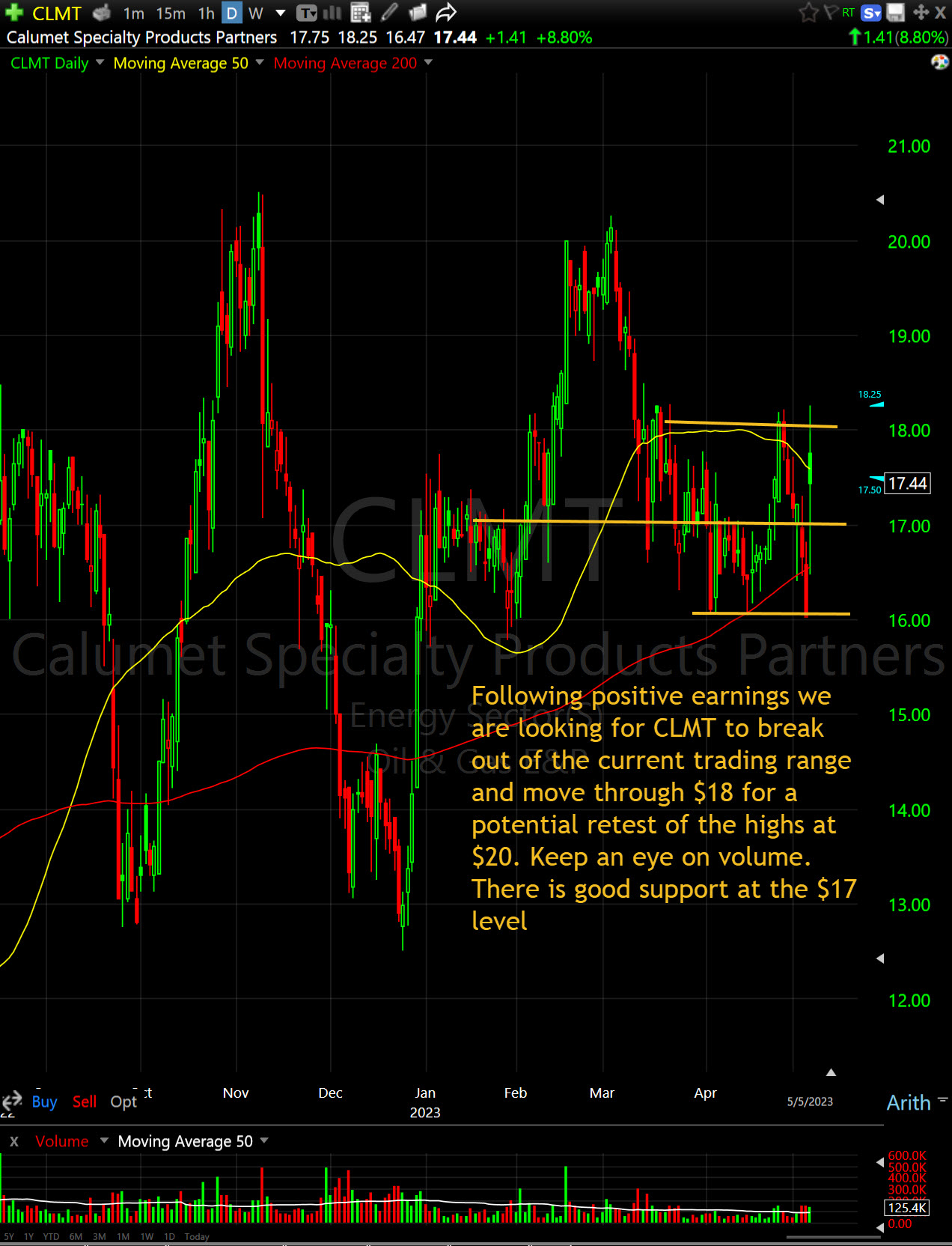 This post is for educational purposes only! This is not advice or a recommendation. We do not give investment advice. Do not act on this post. Do not buy, sell, or trade the stocks mentioned herein. We WILL actively trade this stock differently than discussed herein. We will sell into strength and buy or sell anytime for any reason. We will actively trade into any unusual activity. At the time of this post, principals, employees, and affiliates of Shark Investing, Inc. and/or principals, clients, employees, and affiliates of Hammerhead Financial Strategies, LLC, directly or indirectly, controlled investment and/or trading accounts containing positions in CLMT. To accommodate the objectives of these investing and/or trading accounts, the trading in these shares will be contrary to and/or inconsistent with the information contained in this posting.