Our Stock of the Week is Axsome Therapeutics (AXSM). AXSM is a commercial-stage biotechnology company which is selling two commercial products and has a robust pipeline of new potential products.
AXSM's two current products are Auvelity for the treatment of Major Depressive Disorder. and Sunosi for the treatment of excessive daytime sleepiness in patients with narcolepsy or obstructive sleep apnea.
In the pipeline are applications for Alzheimer's Disease Agitations, Migrae, Fibromyalgia, and Attention Deficit Disorder.
AXSM reported very strong first-quarter earnings due primarily to the licensing of Sunosi for markets in Europe and the Middle East. It was also the first full quarter of Auvelity sales and easily beat expectations.
Currently, analysts expect the company to turn profitable next year, and management has indicated they have sufficient cash on hand to become cash flow positive.
There are ten analysts with coverage with an average price target of $99.10.
The main attraction here is the healthy chart which is a cup-with-handle. The stock moved up to the resistance levels on the strong earnings report and is now consolidating and forming a handle.
Further upside will depend in part on market conditions, but anticipating FDA action will also keep interest in the stock elevated.
As always, we will not chase the stock at the open on Monday but will look to aggressively trade it as it develops.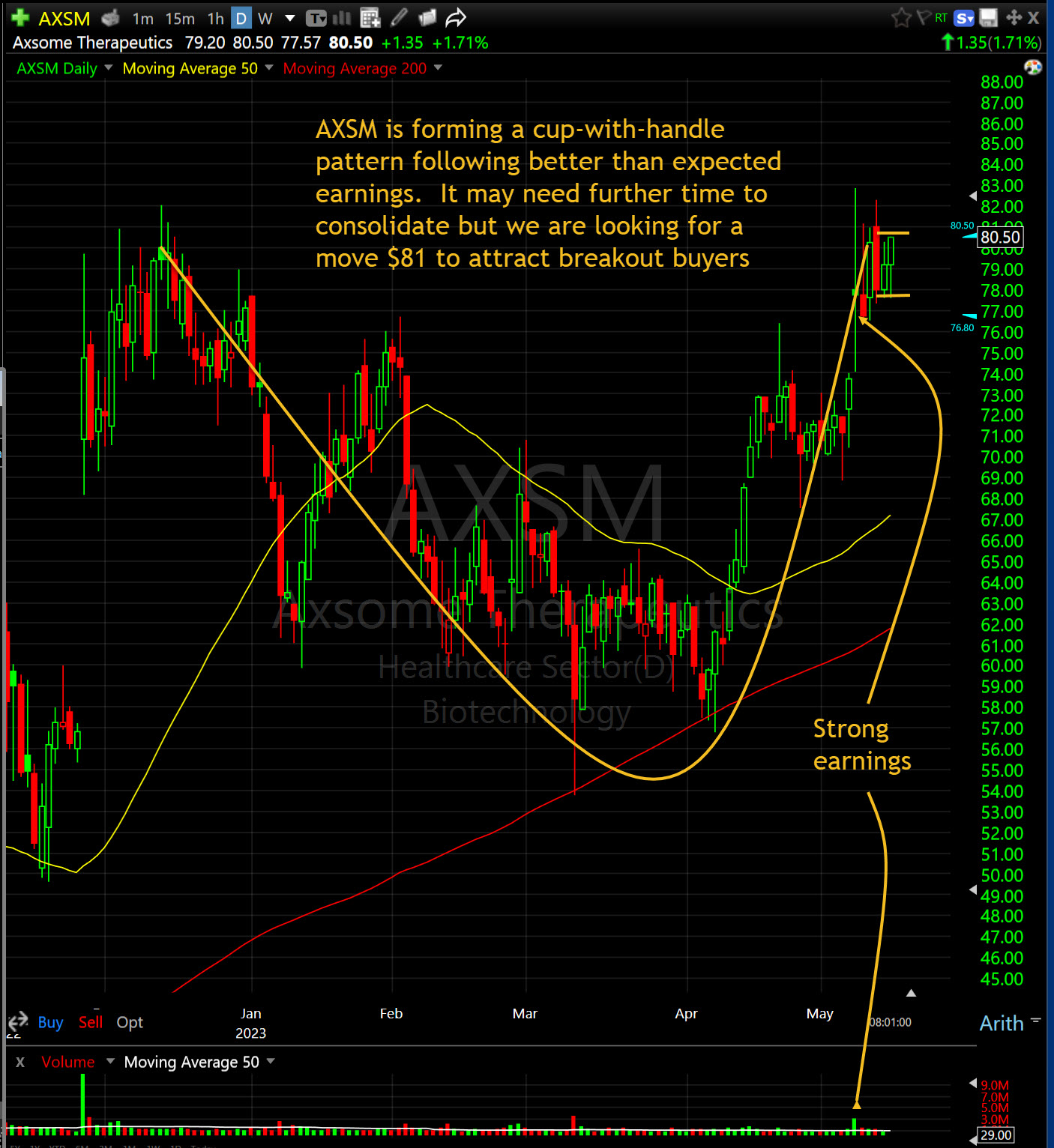 This post is for educational purposes only! This is not advice or a recommendation. We do not give investment advice. Do not act on this post. Do not buy, sell, or trade the stocks mentioned herein. We WILL actively trade this stock differently than discussed herein. We will sell into strength and buy or sell anytime for any reason. We will actively trade into any unusual activity. At the time of this post, principals, employees, and affiliates of Shark Investing, Inc. and/or principals, clients, employees, and affiliates of Hammerhead Financial Strategies, LLC, directly or indirectly, controlled investment and/or trading accounts containing no positions in AXSM. To accommodate the objectives of these investing and/or trading accounts, the trading in these shares will be contrary to and/or inconsistent with the information contained in this posting.