Our Stock of the Week is Aurinia Pharmaceuticals (AUPH). In January 2021, AUPH received FDA approval for Lupkynis, which is an immunosuppressive therapy regime to treat lupus nephritis. The company commenced sales activity and has made good progress despite the headwinds created by COVID.
In the September quarter, the company reported sales of $14.7 million, which was a 122% increase over the prior quarter. The full-year projection is around $40 to $50 million. Based on that level of sales, Oppenheimer placed a $31 target on the stock.
Overall, there are seven analysts with buy ratings and targets on the stock. The high target is $40, the low target is $26, and the average is $33.71.
The kicker here is that AUPH has been consistently rumored to be a takeover candidate. Management has made it very clear that it is open to a deal, and there have been several published reports about possible suitors.
The stock has been volatile as it has danced around to the rumors and a shelf filing, but it is currently testing support levels and is offering interesting entry points. The biotechnology sector is out of favor, and there is little interest in the group currently, but we are watching for support around the 200-day simple moving average at $17.50. At this price, the valuation is attractive even if there is no takeover bid.
As always, we would not chase early strength but look to aggressively trade the stock into volatility.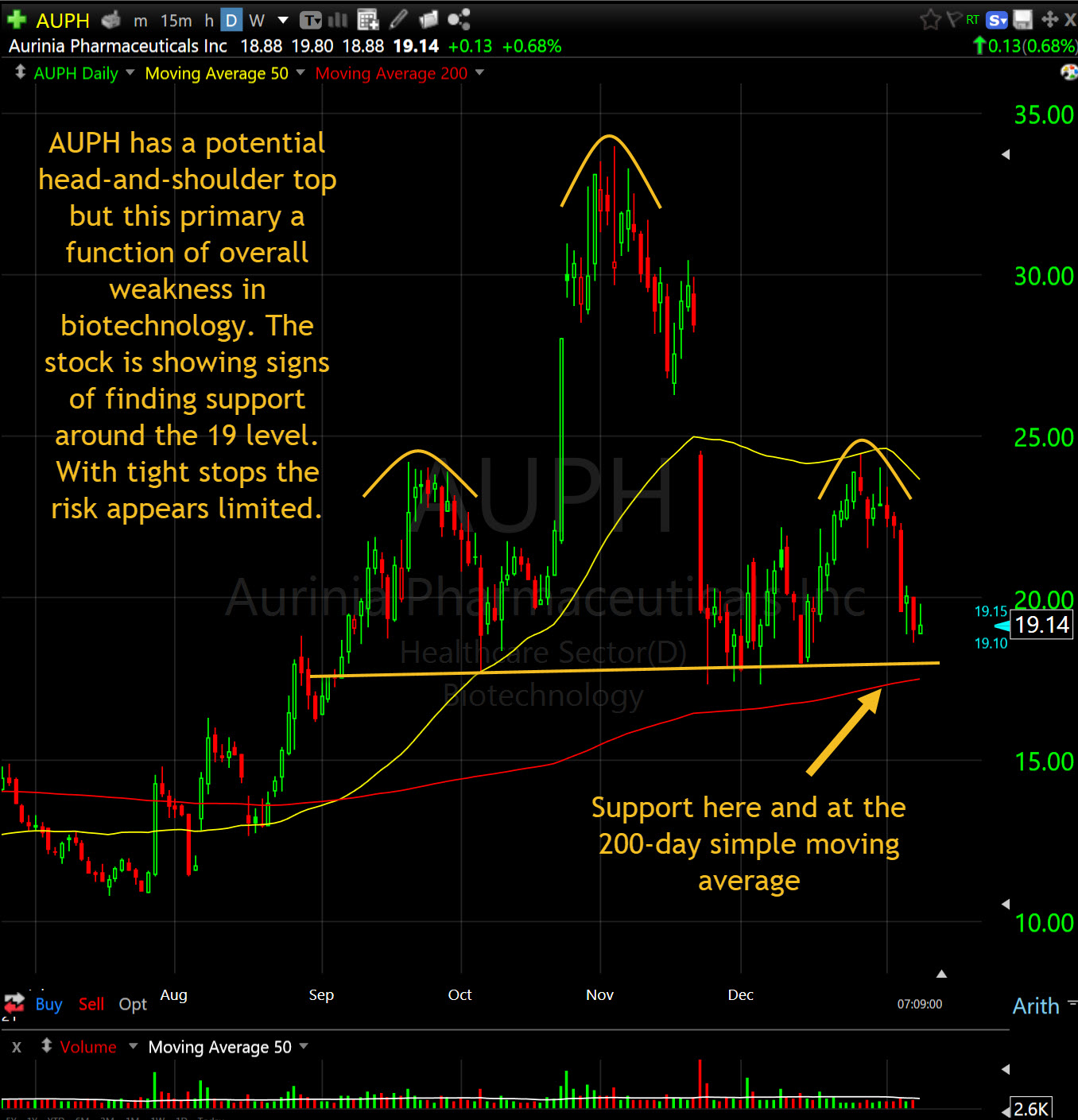 This post is for educational purposes only! This is not advice or a recommendation. We do not give investment advice. Do not act on this post. Do not buy, sell, or trade the stocks mentioned herein. We WILL actively trade this stock differently than discussed herein. We will sell into strength and will buy or sell at any time for any reason. We will actively trade into any unusual activity. At the time of this post, principals, employees, and affiliates of Shark Investing, Inc. and/or principals, clients, employees, and affiliates of Hammerhead Financial Strategies, LLC, directly or indirectly, controlled investment and/or trading accounts containing positions in AUPH. To accommodate the objectives of these investing and/or trading accounts, the trading in these shares will be contrary to and/or inconsistent with the information contained in this posting.