Our Stock of the Week is Alphabet (GOOGL). GOOGL is a well-known search and YouTube site that is taking a leading role in the AI revolution. Of the seven big cap names that have been celebrated as on the cutting edge of AI, GOOGL has the most attractive valuation and probably the best chart.
GOOGL is selling with a trailing PE of 27 and is expecting 20% eps growth in both 2023 and 2024. This compares to Apple, with a trailing PE of 29 and no growth in 2023 and 8% growth in 2024.
There are 35 analysts with ratings on GOOGL. Thirty have buy recommendations, and five are on hold. The average target price is $150.38 for an upside of about 18%.
Technically GOOGL has had very good relative strength following its earnings report and has held up better than all the other big-cap names except Nvidia. That relative strength and the fact that it is not technically extended sets it up as a go-to name when market conditions improve.
GOOGLE has filled not filled the earnings gap and has some vulnerability down to its 50-day simple moving average, but this is a good time to position for a surge later in the year as market conditions improve. There is some risk of further downside as the market correction continues, but we will look for opportunities down to the $125 area.
As always, we will not chase strength on Monday morning but will be looking to aggressively trade the name as it develops.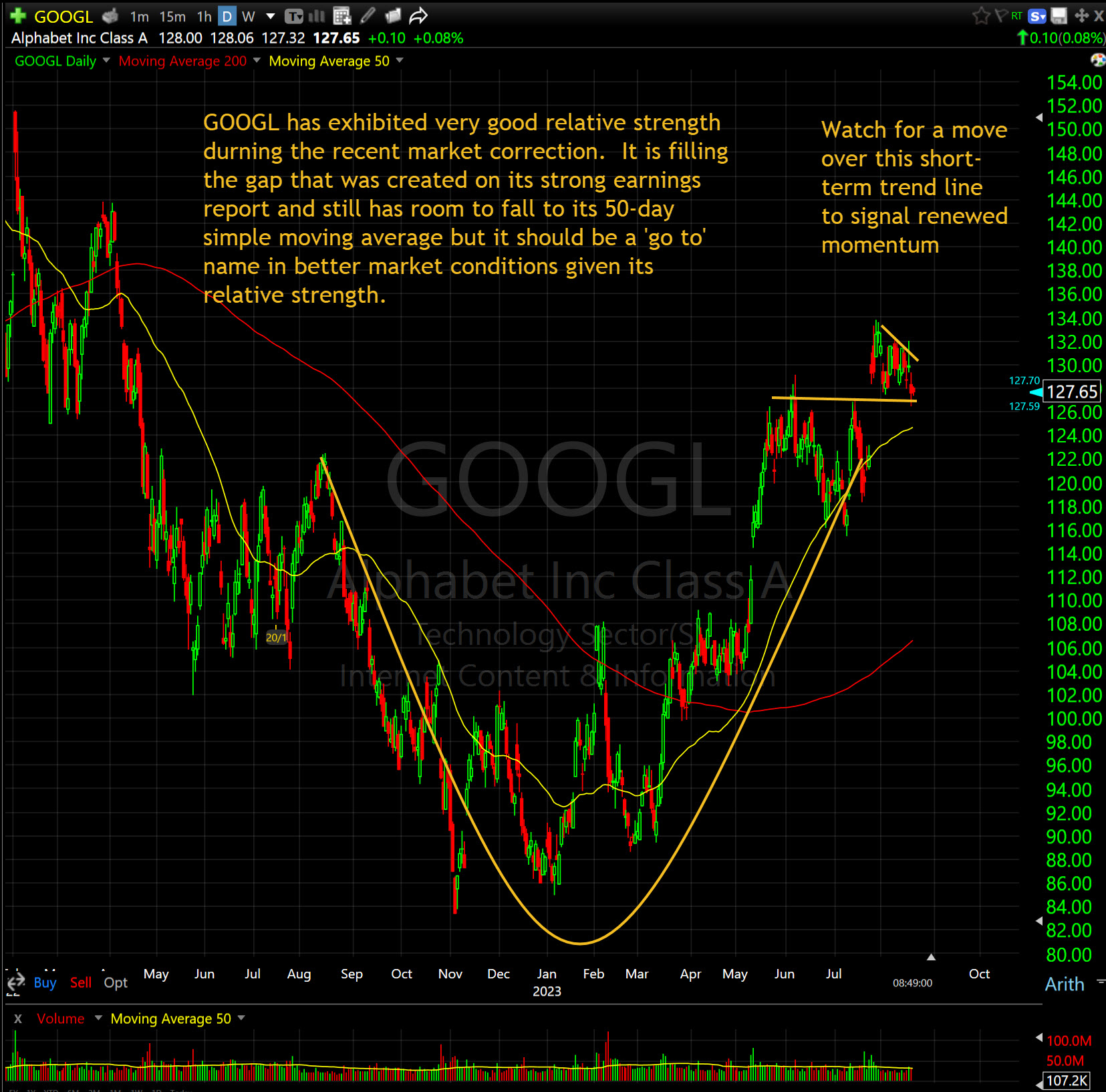 This post is for educational purposes only! This is not advice or a recommendation. We do not give investment advice. Do not act on this post. Do not buy, sell, or trade the stocks mentioned herein. We WILL actively trade this stock differently than discussed herein. We will sell into strength and buy or sell anytime for any reason. We will actively trade into any unusual activity. At the time of this post, principals, employees, and affiliates of Shark Investing, Inc. and/or principals, clients, employees, and affiliates of Hammerhead Financial Strategies, LLC, directly or indirectly, controlled investment and/or trading accounts containing positions in GOOGL. To accommodate the objectives of these investing and/or trading accounts, the trading in these shares will be contrary to and/or inconsistent with the information contained in this posting.