Our Stock of the Week is Airbnb (ABNB). ABNB connects hosts and guests online or through mobile devices to book spaces and experiences. It primarily offers private rooms, primary homes, or vacation homes.
ABNB has been recovering from the shock of the pandemic but faces some headwinds due to the impact of inflation. However, the stock has been building a base after hitting a low two weeks ago, and we are looking for a move through overhead resistance at $125 in the near term.
ABNB has 28 analysts covering it with 13 buys and 15 holds. The average 12-month price target is $187.38. Truist is the most recent coverage and rated it a hold with a target of $160.
While we believe that the market will embrace the stock as the economy develops and concerns about inflation start to ease, there is a likely short-term catalyst in June when the stock is added to the Russell indices. ABNB is one of the largest market cap additions, and there should be substantial buying in anticipation of the index reconstitution, which takes place at the end of June.
As always, we would not chase the stock higher on Monday morning but will be looking for entry and exit points as it develops within its current base.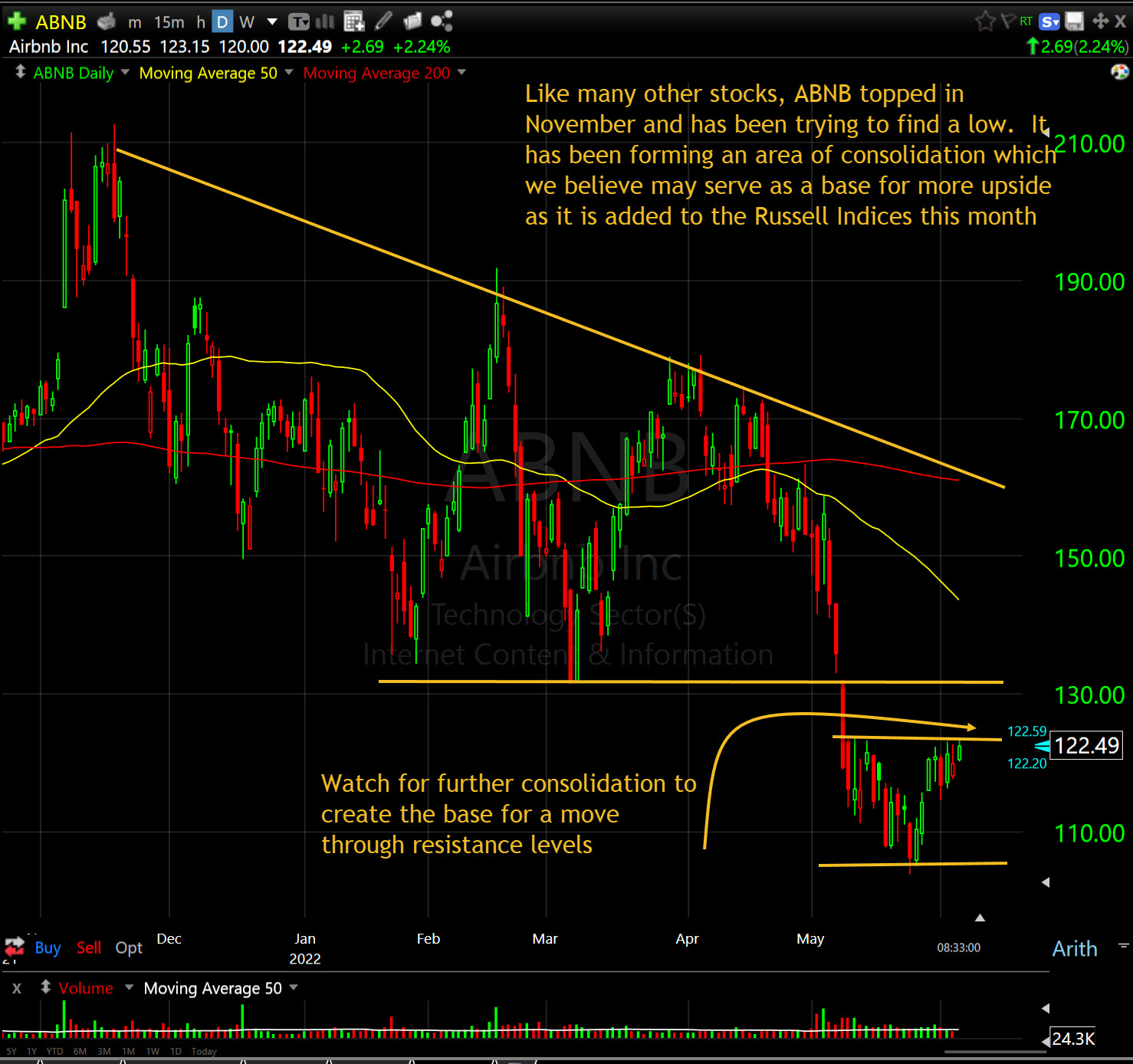 This post is for educational purposes only! This is not advice or a recommendation. We do not give investment advice. Do not act on this post. Do not buy, sell, or trade the stocks mentioned herein. We WILL actively trade this stock differently than discussed herein. We will sell into strength and will buy or sell at any time for any reason. We will actively trade into any unusual activity. At the time of this post, principals, employees, and affiliates of Shark Investing, Inc. and/or principals, clients, employees, and affiliates of Hammerhead Financial Strategies, LLC, directly or indirectly, controlled investment and/or trading accounts containing no positions in ABNB. To accommodate the objectives of these investing and/or trading accounts, the trading in these shares will be contrary to and/or inconsistent with the information contained in this posting.