Our Stock of the Week is Aehr Test Systems (AEHR). AEHR manufactures wafer test and burn-in systems that are used to analyze memory and logic chips for the semiconductor system. AEHR growth is driven by solutions, especially for wafer-level stress and stabilization of silicon carbide or SiC devices for electric vehicles or EVs. Tesla is said to be one of AEHR's customers.
In its most recent quarter, AEHR saw revenue jump 166% to $20.3 million from $7.6 million, and eps increased 475% to $0.23 from $0.04.
The company commented, "We have been approached by several more silicon carbide suppliers to evaluate our FOX-XP systems to meet their production needs for traction inverters and onboard chargers for electric vehicles, and also for other applications such as electric commuter train engine controllers, photovoltaic power conversion, and other industrial applications. As a result of all these positive evaluations, we believe that we will receive orders from at least several new silicon carbide customers and begin shipping systems to meet their production capacity by the end of our current fiscal year that ends May 31, 2023."
Currently, the company is estimated to earn. $0.52 in the FYE May 2023 and double that to $1.04 in the following fiscal year.
Technically the stock jumped sharply higher on its earning report and is now consolidating. We are looking for another push higher through the recent highs. As always, we would not chase the stock higher on Monday morning but will look to aggressive trade it as it develops further.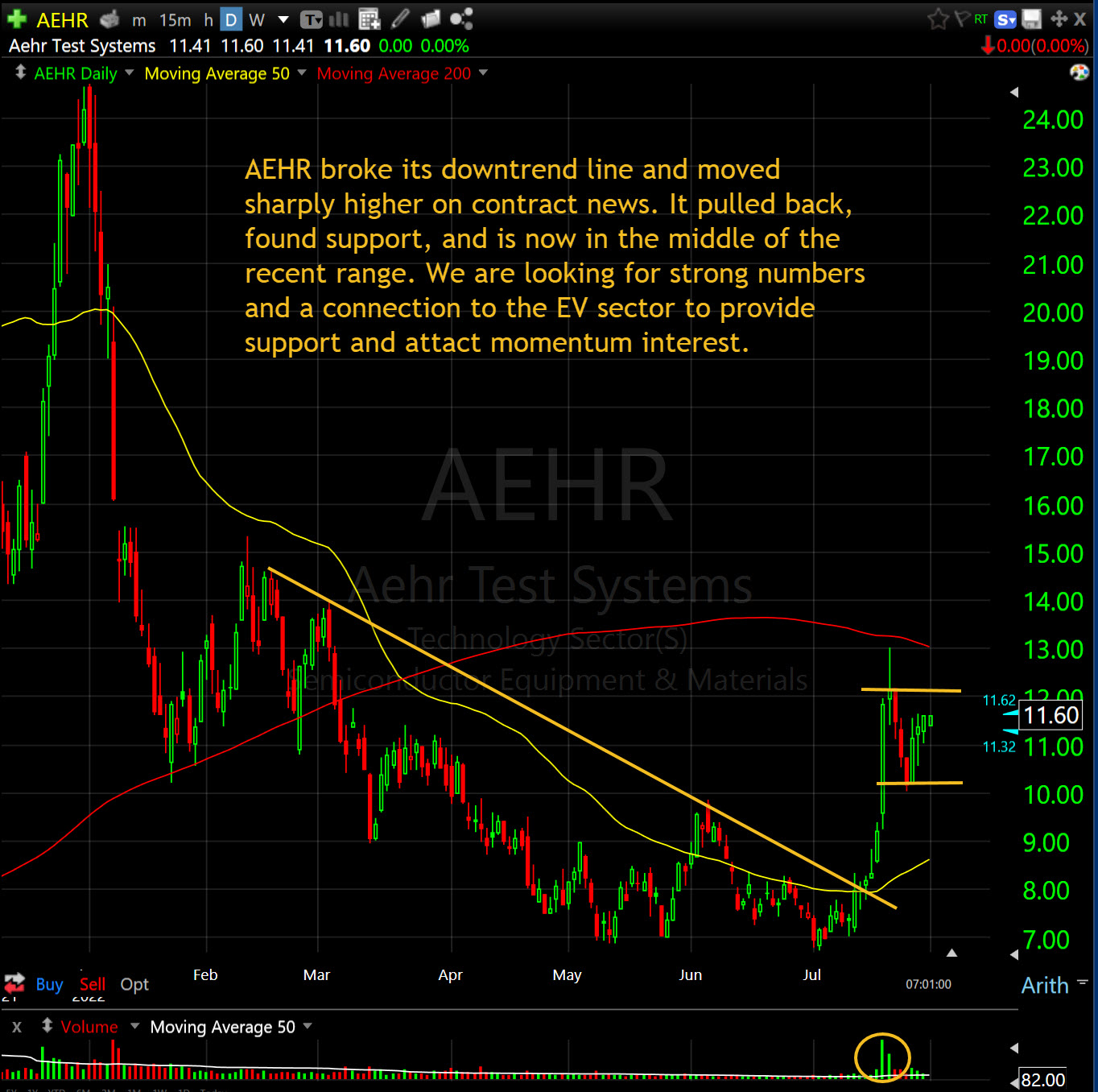 This post is for educational purposes only! This is not advice or a recommendation. We do not give investment advice. Do not act on this post. Do not buy, sell, or trade the stocks mentioned herein. We WILL actively trade this stock differently than discussed herein. We will sell into strength and will buy or sell at any time for any reason. We will actively trade into any unusual activity. At the time of this post, principals, employees, and affiliates of Shark Investing, Inc. and/or principals, clients, employees, and affiliates of Hammerhead Financial Strategies, LLC, directly or indirectly, controlled investment and/or trading accounts containing positions in AEHR. To accommodate the objectives of these investing and/or trading accounts, the trading in these shares will be contrary to and/or inconsistent with the information contained in this posting.